Here's my entry for
stitchingpirates
's Myths, Legends, and Fairy Tales contest.

fav.me/d817e82
It runs through the end of the year so you still have time!!
Mrs. Claus is someone I've pretty much always looked over in my obsessions with Christmas. To be fair, Santa himself never really caught my interest. Well, let's be totally honest, very little about Christmas catches my interest. Christmas is my favorite holiday because of glitter, gifts, family, usually fantastic weather, and things like random acts of kindness. For me Christmas is hardly about the holiday itself... it's about all the awesome it brings out in people and decorating.
So upon taking this project up I had to do a little learning about Mrs. Claus. Turns out, nobody really knows her first name. Wikipedia had a list of possibilities, with boring things like "Mary" (I mean Merry Christmas, come on), but I found "Santarina" to be the most hilarious and so that is what I'm going with. Her myth/legend is pretty basic around Santa Claus, she's his wife and she's old. She likes cookies just like her husband and
who wouldn't love cookies
. Her myth itself is sort of loose but she is a mythical person married to another mythical person and honestly I think she just embodies the perfect grandma everyone wishes they had.
This is originally a pattern from Brooke's Books Publishing and I've gone ahead and made some modifications. You might notice I didn't do her shoes, the little scotty dog, or the various ornament dealies that were meant to hang from her rope there. I also didn't cover her hands in ribbon (because ribbon is expensive). I replaced quite a bit of the colors as I went along, like I didn't use Kreinik glitter green for the belt - instead I used green silk threads.
She's done on perforated paper which is pretty similar to the perforated plastic I worked on soooo many years ago, except, you know, paper. To me it's easier to work on than Aida but also is much less forgiving to you if you make a mistake. For example, you make a mistake on Aida and you just tear out the stitches, no problem, go about your day. Maybe the holes are a little bigger now but it's workable. Rarely does Aida just tear and leave you with an unfixable mess like paper will! Fortunately I didn't run into that issue on this project, but the chances of it occurring are there all the same. There's also the matter of cutting the final piece out: on fabric you can leave as many dangly ends of threads as you please all over the place, with the paper cut-out you have to really stay in the lines. This became VERY irritating around the arms since I had to get all those colors in that narrow area without tugging too tight (and bending the paper).
This is my first time working with the new DMC memory threads. I used gold, white, shiny-rainbow-white, and red. They're... well, different. It's wire wrapped in threads so it can fray a bit more than usual on the ends, especially for the gold and shiny white. The non-shiny white and red really didn't have an issue with fraying and I believe this has to do with the metallic nature of things. There's also two ways to get these down: you can stitch them down or you can glue them down. There's evidently a third way that has to do with sewing them right on by pushing them through the fabric [paper] but that seemed ratttttherrrrr difficult seeing as they're pretty large for the holes. Personally, since I don't want my glue showing over time, I used Judkins Diamond Glaze (recommended by Y!PP Tillathehuny for a totally separate project). The glaze is really nice to use and I give it high ratings for you all to use in the future.
For side fun, her gold memory wire glasses were filled with diamond glaze to give her actual "glass". The braid for her hairband was also a bit of a mess seeing as I've never braided with five strands before and certainly never so short.
As a whole, I
really
loved doing this piece. Brooke's Books produces some of my favorite patterns out there but this is the first time I've actually been able to do one (the material list is often too much for my pockets). The dress is something I will always love - especially the way there's a red metallic stitch every other square to make the entire dress sparkle in the light. My complaint is that when it came to the skin there were
way
too many colors, especially for areas that were going to be entirely covered up, like her hands. It's just not required for a piece that is so obviously focused on the gown!
Would really love to use this piece as a base reference for a Christmas-themed Queen Alicia. Some day.
Color Total:
27
(four memory wire, one Kreinik metallic braid ; includes cotton, metallics, and silks)
Bead Sizes:
1
Bead Color Total:
2
Bead Total:
82
Size:
5 x 7 inches
Time Total:
20.5 hours
14 count brown perforated paper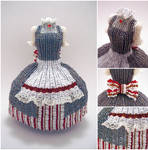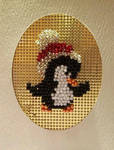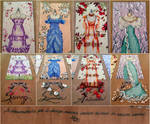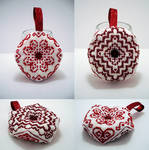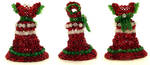 Image details
Image size
1500x950px 3.18 MB