Full Shop
|
Etsy
|
Facebook
|
Instagram

Okay, okay, it's all done for real now, I promise!! I finished all the beading with only a few more modifications to Mirabilia's pattern. I removed some beading that was around the very bottom of the mannequin feet for example, I thought it was unnecessary for the final appearance.
Stitch-wise I added my own quote to the bottom, thought of by me while I was laying in bed a few nights ago. It says,
"A dressmaker's job is always needed, seasons barren or seasons seeded."
I looked at a lotttttt of quotes related to fashion, the seasons, time, sewing, dresses, etc, but none really struck right with me. So I came up with that one on my own.

The A is made-up by me but the rest of the font is from a 365 font book (fitting for the theme in of itself, really). I matched the cursive feel to the original Mirabilia text and there you have it! My signature is made custom from my actual signature - I signed a piece of graph paper and went for it.
I had a super hard time photographing this piece without doing it in major sections which is why it's formatted this way. Every photo I took seemed to dislike lighting, the beads had weird shadows, it was blurry... ugh. Everything that could be wrong was doing it. I spent more than five hours retaking and retaking and retaking photos but

in the end only the detail shots I was really happy with. The quote and signature along the bottom were scanned in two parts.
Before beads: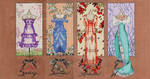 The three tutorials I posted right before this directly relate to my work that I did on this piece (how to add beads, bead lines, and bead shapes). I'm super ridiculously happy with how the entire thing has gone and honestly it's one of my very very very favorite pieces ever. Main modification from the original pattern includes large changes (rearranging the seasons from Winter-Spring to Spring-Winter) and small changes (changing some of the pattern's instructions, removing some stitches, adding others).
I'm super torn on what dress I consider to be my favorite. Each of them has their own special love for me. Spring has pinkness, Summer has the most sparkle, Autumn has an amazing drape similar to what I would wear, and Winter completely falls beautifully all over the place. The other thing, while not explicitly said by Mirabilia anywhere, is that I think these dresses really really look like the seasons they're representing. Spring looks like a flower, Summer looks like the ocean's waves, Autumn looks like a tree, and Winter looks like a snowdrift. It's all super poetic, haha.
Color Total:
43
Bead Sizes:
8
Bead Color Total:
24
Bead Total:
Uncounted
Size Each Dress:
4 x 12 inches
Size Total Piece:
18.5 x 13 inches

Time Stitching:
265 hours and 29 minutes

Time Beading:
26 hours and 39 minutes
Time Total:
292 hours and 8 minutes
32 Count milk chocolate Linen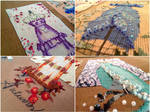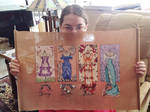 Image details
Image size
2050x1703px 8.58 MB