Description
The longer I wait between finishing a piece and actually posting it, the less I seem to have to say! This hat has been done for quite some time and is part of a dress arrangement of three pieces. Why did I wait to post it? Well, only two of the three pieces are finished... if you've been following along on

www.facebook.com/makeitpinkets…
you know why, but for those who aren't yet

it's because the third piece is a pair of boots and I've been having a lot of trouble cutting the metal for it.
The pattern is by Suzanne Cooper and I purchased it from
bead-patterns-24-7.com/
along with a handful of other hat patterns. The brim, you may have noticed, is rather high on this hat because of where I attached it. Well, the original pattern calls for glue or some such to keep it in place and I prefer to just use the beads and thread... hence the high brim now.

Size 11 glass seed beads in turquoise and silver-lined brown and size 15 silver-lined brown, threaded together with I believe is brown Japanese One G nylon, but since it's been some time since creation it could possibly be gold Japanese KO nylon. I remember the top of this hat was pretty difficult to achieve. The dip at the top is permanent due to the way it was beaded, however the original pattern suggests the top should be flat and then simply pushed down? Mine is not just pushed down, it is fixed in this position and you'd ruin the hat trying to push it up! Done in the special really, really round peyote stitch and then some free-styling to attach the brim. The original pattern also fails to include the size 15 beads, meaning the brim looks jagged and unfinished... the size 15 beads smooth it out.

Future orders could very easily be altered to not include a hatband.

Colors:
2
Bead Sizes:
2
Size:
1 1/2 inches long, 1 inch wide, 3/4 inches tall
Time:
3 hours
The matching set.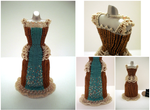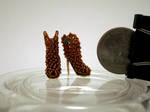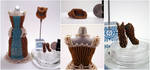 Image details
Image size
1233x629px 1.42 MB

Love the whole outfit, and the tiny pearl necklace could still be included as your own personal style!