Here's part of my promotion for
stitchingpirates
's
The Looooooooooooong Contest
, a contest about 3D stitching that will span the next year. Since I won first place in the monochrome contest I can't actually participate for prizes, but that's not going to stop me from using it as an excuse to make all those 3D things I've been wanting to make!

These patterns are from Just Nan and are limited edition. In most cases limited edition patterns bother me but in this case I can totally see the purpose for it (the only reason I carry them in my own shop is because that's my agreement with the original artist). Trying to continuously source miniature top hats, the flowers, the bases, their little roses, and the tails... that's gotta be a nightmare!
So these come as kits without the fabric and thread but everything else is included. The actual stitching before they get put together makes them look a lot like little mantra rays or UFOs. Once everything is stitched they get turned and stuffed with a bit of cotton and then stitched to some filigree buttons for their bases. Next come the tails, I tweaked the groom's tail around until he could keep his balance so he ended up a little 'taller'. Then comes all the extra goodies like the veil and hat, the roses, and whiskers.
I actually like the groom mouse more than the bride.

I bought them because of the bride! But the groom has this cute little suit on and his little
boutonnière is so perfect. The bride is cute too but her dress isn't really much of a dress, it's just sparkly beads and some flowers, I really wish that she had gotten more dress than decor out of it.

Only very very minor modifications to Just Nan's original instructions. Stuff like using a different color of Kreinik on the bride's sparkles because I didn't want to go buy a whole new color.

Color Total:
Bride:
8 /
Groom:
6
Bead Sizes:
1
Bead Color Total:
2
Bead Total:
72
Size:
~1 1/2 x 3/4 inches
Time Total:
Bride:
4 hours /
Groom:
4.5 hours /
Finishing:
2 hours /
Total:
10.5 hours
36 count sparkly white Zweigart from
Mattsma
Pattern is by Just Nan.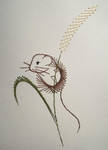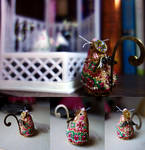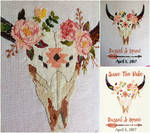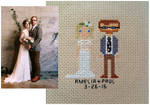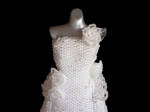 Image details
Image size
1368x1534px 696.87 KB
Date Taken
May 24, 2018, 11:30:32 AM