How to Embellish with Beads the Mirabilia Way
Description
Since early this year (2014) I have been on a hunt for how Mirabilia (Nora Corbett) wants all the beautiful beadwork she designs to be attached to the fabric. Many websites, and even forums, give basic instructions for how to add beads, but none were satisfactorily "official" for how it should be done. My efforts were rewarded with a randomly scanned page from The World of Cross Stitching magazine, showing me exactly what I must do for Mirabilia patterns! The image was blurry, the instructions were short, but I preserved and will now share my knowledge with you.
The original pin I found the instructions on is here:
www.pinterest.com/pin/40715362…
I consider this method the "official" way for Mirabilia styling since it was published in a magazine with her pattern. There are many other methods for attaching beads out there so don't limit yourself!
Mattsma
helped with quality control on this by making sure all my photos accurately told how to do it.

How to bead flowers, snowflakes, and other shapes:

Other tutorials and related piece: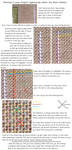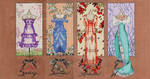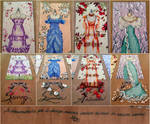 Image details
Image size
1340x4545px 2.06 MB
So glad to see this viewpoint. Usually do free hand and not on cross stitching material, but would like to try this. Thank you so much!