Description

They're finally finished!!

This is a custom pattern based from the Barbie-sized shoe pattern from before: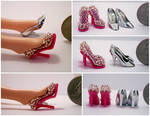 Barbie is 1:6 scale, making this pattern rather useless to me for my 5-inch tall dresses...

I had to get
really
creative for it.
The soles are hand-cut brass from a custom pattern. The original Barbie-size soles are, well, Barbie-sized, but they're also plastic and I was unable to find more to buy. This was extremely difficult for me as I had never worked with metal before, seriously. When I first started cutting them out I had the incorrect tool so they came out too large and lumpy, very unrefined. Mom helped me order a special metal cutting tool - they're pretty much the sharpest scissors I've ever come across! They slice through the metal (in this case, brass) with ease and are really comfortable to maneuver allowing for very precise and accurate cuts. Once they were cut out I still had to drive an icepick through the toe in four places with a mallet to create the connection points... try doing
that
without slicing through the edge of the metal, after all that measuring and cutting...

so many attempts were made before I could get it done!!
The beaded sole itself is the same pattern from before, but it uses size 15 beads instead of size 11. From there I created a custom pattern upwards, and then back down, writing down all the steps as I went. It uses mostly Right Angle Weave (RAW) to get the final effect. I attempted herringbone but it simply didn't work with the scale. In making the cowgirl boot pattern I made notes for four other variations on shoes... so hopefully that all works out in the future.
Size 15 glass seed beads in silver-lined brown and solid turquoise, hand-cut brass sole, woven together with brown Japanese One G nylon. I finished the inside of the boot with a very thin layer of clear nail polish to help it keep its upright shape. They can stand and balance without support otherwise.
Colors:
2
Bead Sizes:
1
Size:
1/2 inch long, 1/4 inch wide, 1 inch tall
Bonus:
Hand-cut brass soles
Time:
Untimed
Since I was creating the pattern as I went I didn't time my work. It's fair to say that it takes a very long time to cut the brass perfectly and then bead onto it without mistakes.
The rest of the set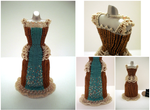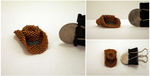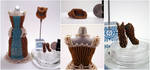 Image details
Image size
1280x960px 321.96 KB
Date Taken
Oct 22, 2013, 7:19:48 PM