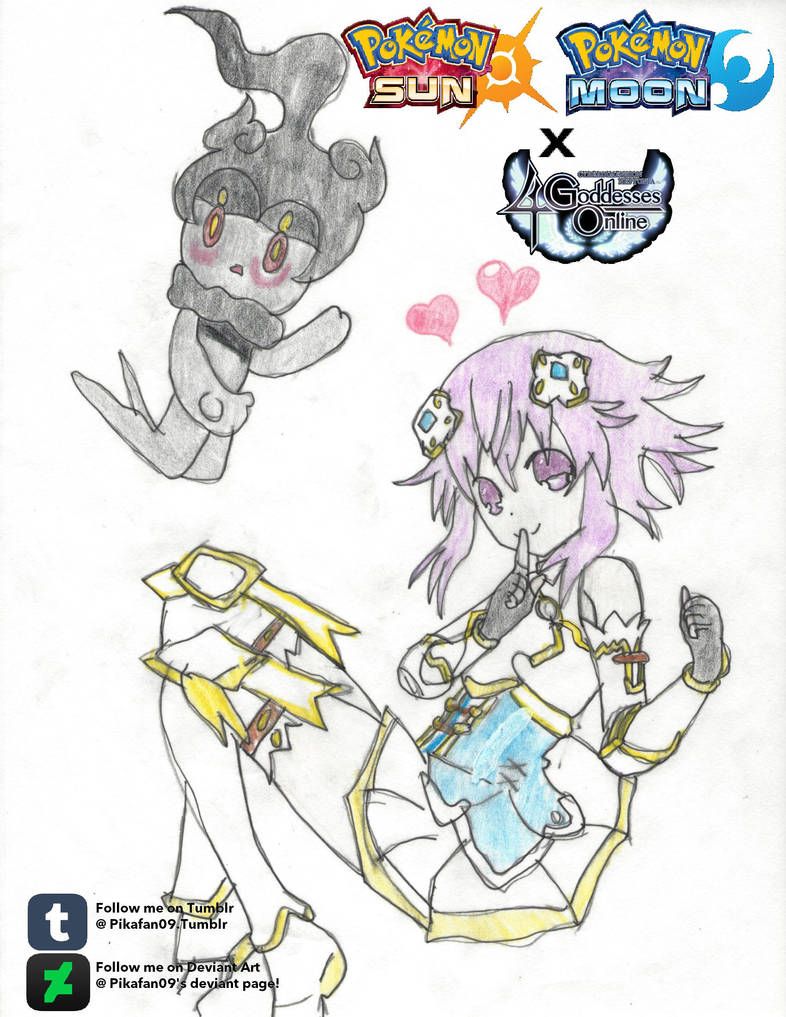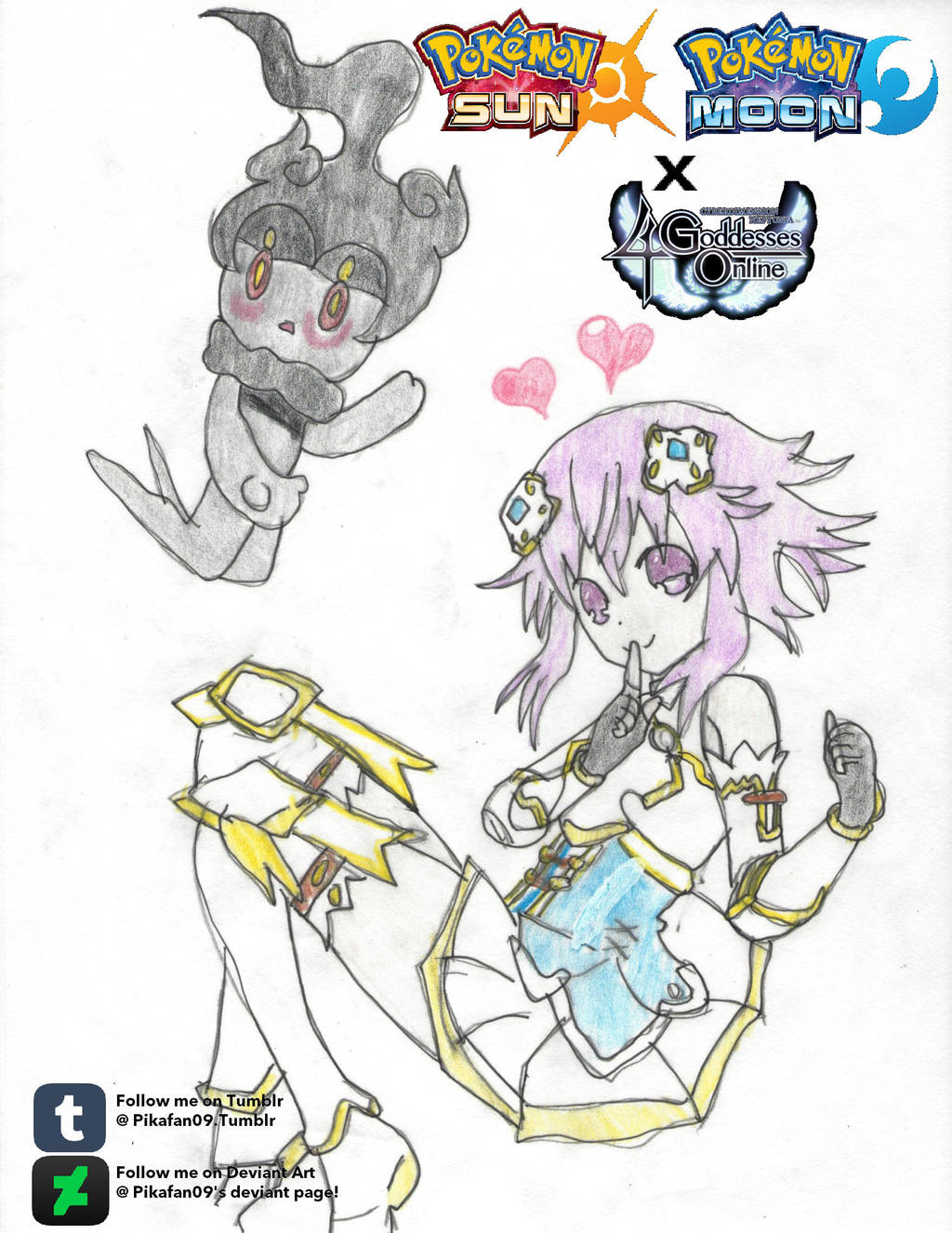 Watch
Whuts up everyone, Pikafan09 here, and the reason why I drew this fan art is to commemorate the launch of
Cyberdimension Neptunia: 4 Goddesses Online
for the PS4, and PS4 Pro, and as well as the release of the Marshadow mystery gift codes for
Pokémon Sun
, and
Pokémon Moon
.
Well then, your friendly-neighborly Nep-Nep (or Neptune) has logged in!
--

Nep-ko has logged in! As you pretty much know, my avatar's outfit is so cute! (As the Sugars (Aka: David.) thinks that my avatar outfit is beyond sexy and cute than any other outfits that I wore.) Time for me to do my introduction! My name's Neptune! I rule the little nation called Planeptune! So anyways, here on four goddesses online, I am notably worthy as a palaidin. And I'm also here taking a breakn from work. And oh! Here comes our new guest!


Hi everyone!

Alrighty then! Time for me to intoduce this new mysterious Pokémon to the folks on the other side of the screen!

This Mythical Pokémon's name is Marshadow. The Gloom Dweller Pokémon. Ghost, and Fighting type. Able to conceal itself in the shaodws, it never appears before humans, so its very existence was stuff of myth. (Unlike Mew, Marshadow does the same to avoid confict, and commotion.) Also, when it first appeared at some time after the party and I defeated the giant doggo as we headed to Wishuel town. Hwo did it get here, a voice came out of nowhere, and it appeared from right out of my shadow! Marshadow seemed to loved my fighting skills, so I let Marshadow join me, and the party for our adventure! So Marshadow lept on to my shoulder and became my companion for the ride!

Oh yeah! And for those of you want to get your Marshadow for
Pokémon Sun
, and/or
Pokémon Moon
, make sure to make your way to your local Gamestop to get your code to get Marshadow! (
And make sure to purchase our 4 Goddesses Online if possible.
)

It's level 50, and it comes with the Marshadium Z, a Z-crystal that converts Spectral Thief into Soul-Stealing 7 Star Strike! It's moves are; Spectral Thief, Close Combat, Force Palm, and Shadow Ball. And it also has Technician ability. Technician powers up weaker moves! So if your opponet's winning, turn the table with Marshadow!
--

If you loved this fan art, then make sure to smash that

button, and leave a nice comment if necessary!
--

Pokémon belongs to Satoshi Taraji, Game Freak, Creatures.Inc, Nintendo, Viz Media, TV Tokyo, ShoPro, JRKikaku, and TPCi (The Pokémon Company International).

Hyperdimension Neptunia belongs to Idea Factory International, Compile Heart, Tamsoft, Unreal Engine 4, Tsunako, David Productions, and FUNimation.
Disclaimer: The logos; Pokémon Sun, Pokémon Moon, and as well as Cyberdimension Neptunia 4 Goddesses Online are all NOT mine! These logos belong to their respective owner!