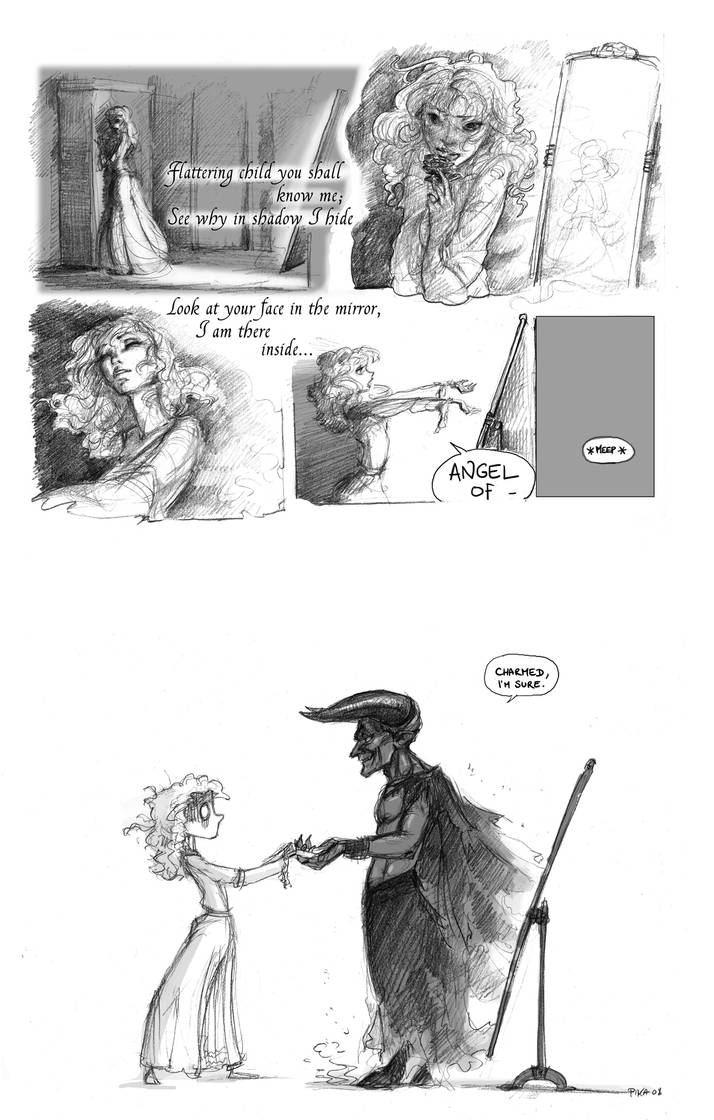 Watch
REPETITION COMEDY, I DOES IT.
Really, Christine should learn to be more wary of that mirror of hers.
For those who don't geddit -
The big horned dude is the rather disturbingly smexy Prince of Darkness, as played by the delicious Tim Curry in even more make-up than he wore in 'Rocky Horror', from
'Legend'
- another glitterrific 80s fantasy flick, which is both extremely cheesy and cringe-worthy in parts, and visually quite enchanting (John Howe worked on the set design, people...).
It was my absolute fave daydream film as a kid, for long before a certain Goblin King pranced in.
It has dreamy forest sets, unicorns, a creepily fey child actor, nasty goblins, a young, lank-haired and gormless Tom Cruise in waaay too short a glitter-and-gold chainmail shirt, aforementioned kickass villain and... an absolutely fascinating sequence where the wide-eyed, dark-haired innocent princess is dance-seduced to the dark side... (involving a mirror.)
----
__
Previous
Next
Beginning
____
----
This is a work of fanart, and solely intended for shits and giggles. No money is being made by this.

"Angel of Music" lyrics from Andrew Lloyd Webber's The Phantom of the Opera.

Big D (c) Tim Curry, Ridley Scott, and Universal.
Christine and Phantom (c) Leroux and Webber.
Based on the original Roommates comic by AsheRhyder