Deviation Actions
Daily Deviation
October 12, 2021
The Very Hungry Caterpillar Crochet Amigurumi by
PiixXxiiE
My friend requested that I make this crochet amigurumi set for their son who loves
The Very Hungry Caterpillar
. I had originally planned to make more of the food from the story, but my timeline was cut short, and my friend said these fruit would do nicely. 🍊
🍓🍑🍐🍎🐛
Some of the patterns I found online (and tweaked a bit), some I made up myself. I have included a list of crochet pattern links below.
Very Hungry Caterpillar pattern by Twinkie Chan
Apple pattern by PlanetJune
Pear pattern by PlanetJune
Plum pattern by NyanPon
Strawberry pattern by Maysoondo
Disclaimer:
I do not own
The Very Hungry Caterpillar
. It is written by Eric Carle.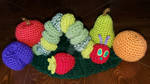 Image details
Image size
3710x2140px 2.8 MB
Date Taken
Jun 28, 2021 12:21:31 PM -04:00