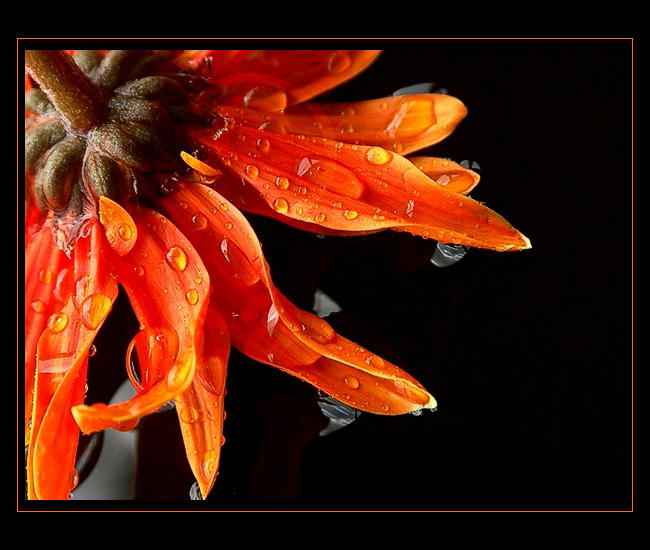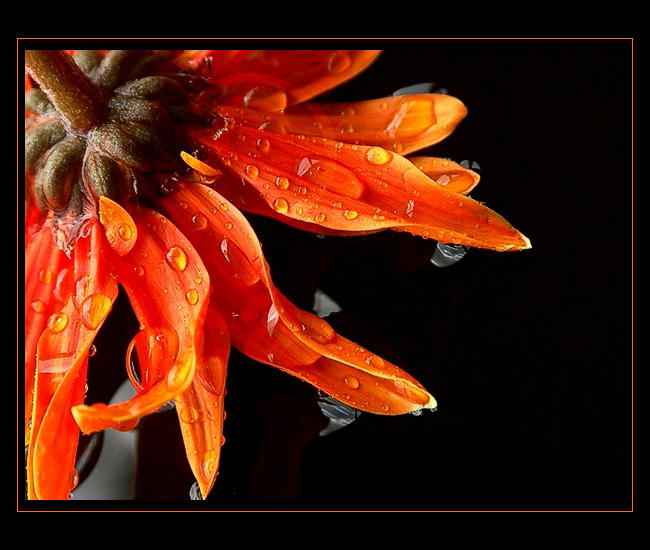 Watch
This is one of 5 final photos for a series I did for my Photography II class Project 2. We had to submit either a series of 10 themed photos or two sets of 5 photos each having a theme. I'll submit the second series later on when I get through putting all the borders on them. The main point of this project was to try and focus on a theme to help start coming up with a style for our own photography. Since my favorite aspects of photography are macro and nature shots I opted to combine the two for the Project.
In order to achieve the photos for this series I shot them all outdoors in order to give the best amount of light since I don't own any professional photography light set ups. Too I thought natural light would be more appropriate since flowers are an outdoor nature thing. I used scraps of black foam core to set up my background. I then used a spray bottle filled with water to wet the flowers down to have water droplets all over them. Too, I borrowed my collegeís SLR camera for this photo shoot because my camera isn't anywhere capable of getting as close to objects as an SLR.
Overall, I really like the composition and repetition in all the pieces for this set. I think the bright colors against the black really make the picture pop and give it some really good contrast.
If you'd like to see the other 4 photos from this series please click the following:
Bright Beauty Series--02
Bright Beauty Series--03
Bright Beauty Series--04
Bright Beauty Series--05
-----------------------------------------------------------------
EDIT:
I submitted the second series of my Project 2 assignment. If youíd like to see the other set of 5 photos for this Project please click the following link and within that deviation itíll lead you to the other 4 of that series:
Bright Beauty Series2--01