Deviation Actions
Daily Deviation
January 21, 2011
Vector Week
couldn't end without Vector Chains by =
pica-stock
. Suggester's words: This is a great brush to be used in Illustrator to create a variety of chains. Beautiful line art and shading make this a great addition to vector portraits and more!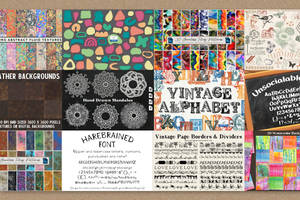 HG Designs Subscriber Area
Lots of high resolution goodies for graphic design including textures, photoshop brushes, seamless patterns and more.
---

Description
pica-stock
| brush
---
chain brush
| illustrator pattern brush | .ai
3 brushes
| gold, silver & bronze
© ~pica-stock
| 2009
---
free to use for non-commercial works on deviantart.com
| send me a link to your deviation
please ask permission for commercial works
| send me a note with your request
do not sell, copy, transmit or distribute without my permission
| send me a note with your request
you are free to alter, transform, or build upon this work
| just respect the creators rights.
---
How to use:
1. Open the file in ai, open the brush panel, pick a brush and draw. Or draw a shape first and then add the brush
2. For Mac: Copy the file into
Applications >Adobe Illustrator CSx > Presets.localized > Brushes.localized
. When you now open the brush panel and go to
Open Brush Library
and pick the file. (You can also open it from your desktop.)
This is a pattern brush, without corners (chains usually dont have corners

).
Comments:
i made these brushes for an upcoming artwork of my main account ^pica-ae
they are based on the Create a Gold Chain Pattern Brush with Illustrator tutorial, that can be found atVectortuts+
that it is based on a tutorial is the main reason i submit this awesome brush as stock

cos anyone can do it


it's really not that hard, and you should try and make your own pattern brushes too


they look different than in the tut, mainly cos i used a different reference image


please enjoy, and let me know if you use them

i would love to see what you make of it



--

The brush in use:
What you looking at? & Silhouette Lady by ^pica-ae