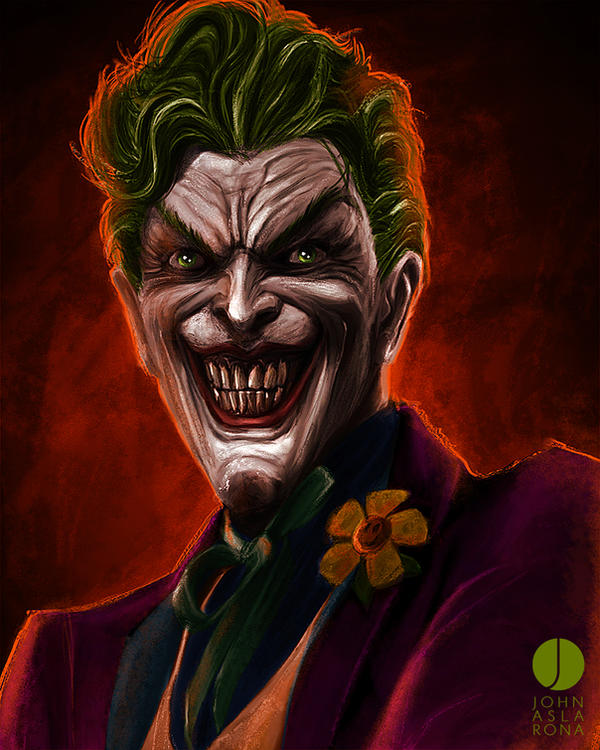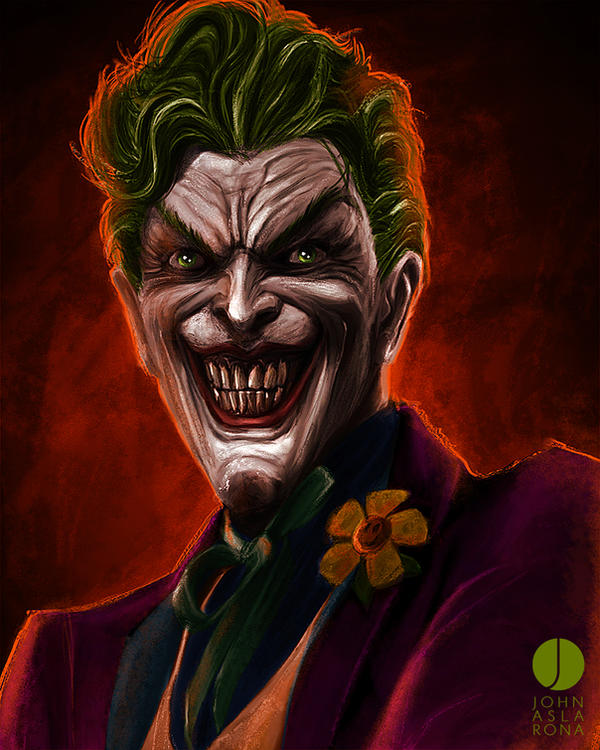 Watch
This is seriously exceptional work. I can't believe it's not traditional!

I shall start with the background. I love the background; it's like he's standing in front of something (or...someone...?) he just set on fire, and it really gives the image a lot of impact. Perhaps adding a bit of smoke or flying embers behind him would put a bit more of a narrative in there?

I would have liked to have seen a bit more texture in the fabrics of his shirt and jacket. But then, I love detail. Not a lot, but just a little bit, especially around the neck area; it's a little difficult to figure out what the shirt is doing and where the collar ends. I know this has a lot to do with the pose though and most of this detail is in shadow, but just a little bit more emphasis on this area would make it a bit clearer.

The face is brilliant; you've got all the stretches of an extreme sickly grin there, very Nicolson-ish which I like. Sometimes the make up can take away the Joker's expressions rather than add to them as I've seen in some realistic pieces like this, but you have managed to balance both perfectly. The teeth are disguisting, dirty and big like pianno keys, like his teeth are trying to escape, which I like. Joker is all about the smile.

The texture in the hair is brilliant. You could almost count each strand. Perhaps adding a little more motion, making the hair a little messier might improve and add to the chaotic look?

The only thing I would say about the face is that I feel the eyes should be looking straight at the viewer; the perspective looks as if he is looking over someone, and it would be as if he's thinking; 'You're next.'

Other than that this is truely a brilliant piece, very realistic but still true to the source material. Well done! I look forward to seeing more from you.
The Artist thought this was FAIR
7 out of 7 deviants thought this was fair.