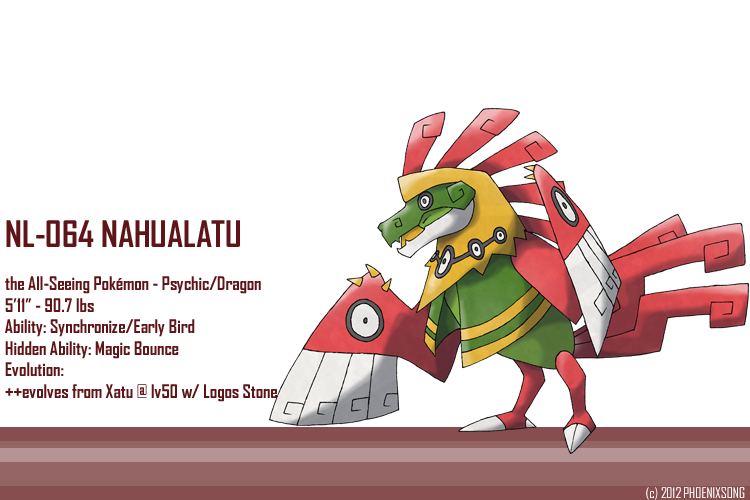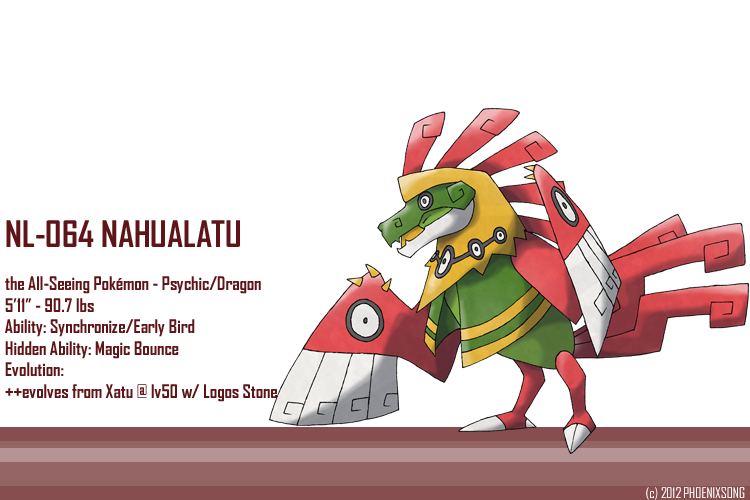 Watch
Nahualatu's Phoenixdex Entry
oops one last NL fakemon
It is said that Nahualatu always keep their real eyes closed so that they can ignore the distractions of the earthly realm, instead using the eyes on their masks to peer into dimensions beyond understanding. Nahualatu are very rare—only high-level Xatu that have undergone special training and have a mystical Logos Stone used on them can evolve— and are sacred to the Tanoby people as teachers and spiritual guides. Nahualatu masks closely resemble ancient Tanoby carvings depicting a mysterious, little-known Pokémon; the reason for this is unclear.
(the "Tanoby" being the mysterious "Unown civilization" hinted at in the Ruins of Alph, etc.)
The scramble to clean up New Logora has given it a partial Mesoamerican/South American flair (though it's not based on any real-world locations), so taking Nahualatu more in that direction instead of the more common Native American one seemed like a nice idea. Xatu's pokédex entries mentioning South America doesn't hurt, either.
The name is pronounced something like "nah-wal-ah-too", jsyk.
Pokémon, Natu and Xatu © Nintendo et al, Nahualatu © me.

I always thought Xatu was perfect I WAS WRONG

Reply

ohmygosh!! more Aztec fakemon!!
Reply

Heh, Mesoamerican culture gets comparatively little attention in the fakemon fandom. Glad you like it!
Reply
This thing is original and awesome! Good job (also I love xatu)!

Reply

Original Xatu evo

Reply
I LOVE THIS!! this is totally a viable evolution for Xatu!! and I love how it's like Quetzalcoatl based! I'd use this definitely in a psychic team!
Reply

Quetzalcoatl is easily one of the most badass-looking deities in any pantheon ever; I kind of couldn't not pay homage to him.

Thanks!
Reply

Before reading the description, I thought the fake eye on its head was its real eye lol. Clever.
Definitely one of the more original Xatu evolutions I've seen.

Reply

I want to catch one so bad! :]
Reply

Reply