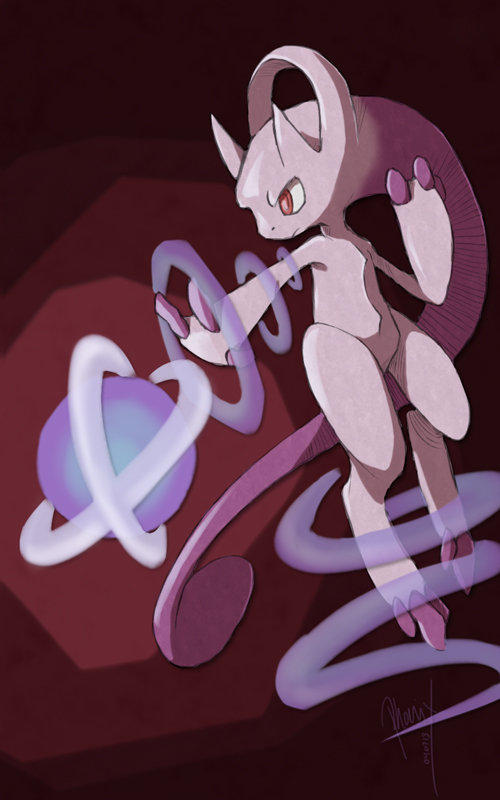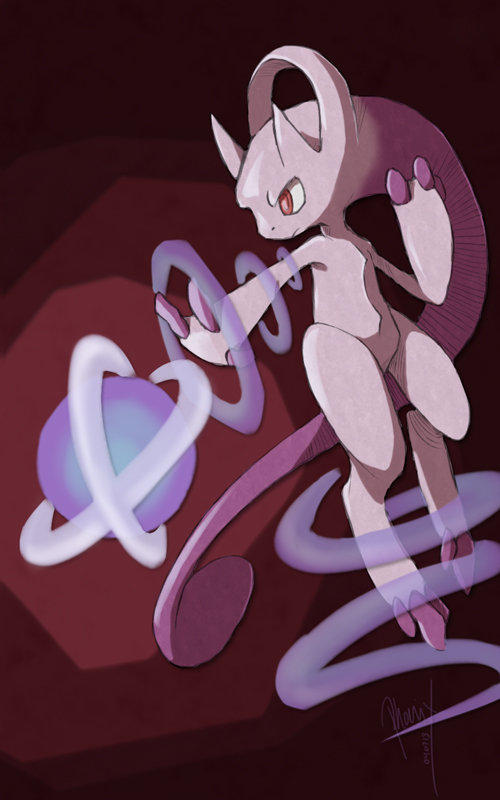 Watch
Mewtwo? Mewthree? Mewleventyseven Genesis X Attack Forme? I have no idea and I'm too tired to care! It was surprisingly fun to draw, though, and a decent enough way to destress after being frustrated by some coding tweaks I was making earlier. Messing around with different styles is a lot more fun now that I have my new tablet, ayup. Had to add the textures in Photoshop afterward, but still! Really diggin' this whole tablet deal, man, it's awesome. Hopefully I'll be able to do some fakemon art with it that's not awkward pseudomori stuff.

(And yes, I do have more fakemon to upload; I've just been lazy and busy. Soon, though! Eventually! Maybe!)

Pokémon, Mewtwo and Mewblargh © Nintendo et al, artwork © me.

Technically Phoenixsong its Mega Mewtwo Y...

Reply

It's nice to see more of your work again. I like the way you designed its psychic energy.

I personally think that is a Mewthree. I think that was intended to be a Mew clone like Mewtwo was but it was intended to be closer to the original (It looks much closer to Mew than Mewtwo).
Reply

Thank you! Aha, yeah, I have been doing some artwork but I haven't gotten around to posting most of it here for various reasons. Far too many of them start with "god but I'm lazy", unfortunately.

I guess I'd sort of prefer it as a Mewthree, although at this point I think it's been confirmed as a forme? The new movie has a trailer showing a Mewtwo turning into this, anyway. But hey, maybe there'll be some twist to it yet. Like I said, I try not to think too hard about it, heh.
Reply

So, which side of the argument are you on? The side who says that it's a new Pokemon, or the side that says that it's a new forme?

Based on what's on the Pokemon website, I'm going to say that it's a new Pokemon, but I guess we won't really know until the Extremespeed Genesect trailer coming out on the 18th (hopefully).
Reply

You know, I'm not really sure! At first I was pretty convinced it was a forme, but the way the official website has been wording things does make it seem more and more likely that it's something new entirely. At this point I try not to form strong opinions either way just because I don't want to risk getting attached to an idea only to have Game Freak turn it on its head, lol.
Reply

Yeah, I see what you mean. Truth be told, I hadn't even considered the possiblity of it being a new Pokemon until after the official reveal.
Reply

The new pokemon looks like the failed lovechild of Arceus and Mewtwo
Reply

Reply

yay Mew3/Cosmic Form Mewtwo
Reply

Cosmic forme? That what people are calling it now? Heh.

Reply

nope thats what I Call it along with Mew3, since i'm getting 2 different stories, A) different form of Mewtwo and B] a sub species/ relative to Mew/Mewtwo, so could be another clone, or like Manaphy where it can have a Phione, yet the two are still somehow related. So until REAL conferimation is known, i;m calling it Cosmic forme/ Mew3.
Reply

Well, yeah, no telling how long it'll be before we get proper confirmation at this point. 'S why I'm just sticking with Mewblargh.

Where'd you get "Cosmic", though, out of curiosity?
Reply

oh the antene on his head, and tail, it looks very alien like and ahs a "Cosmic" feel to this incarnation. So Just called it Cosmic Form.
Reply