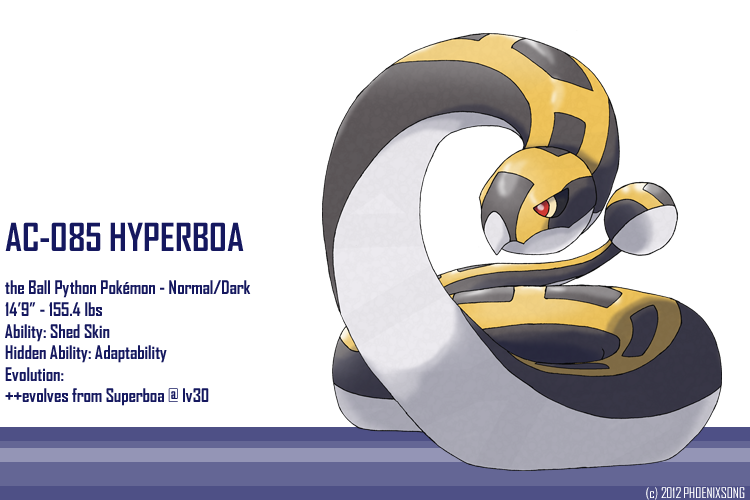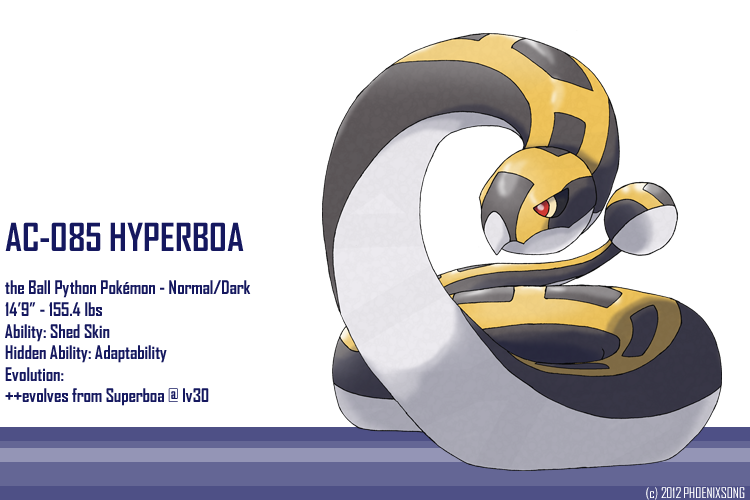 Watch
Superboa (basic stage)
Hyperboa's Phoenixdex Entry
Accolantian poké ball mimic numero dos! Hyperboa here looks a little more black and yellow than red-and-white because, in the Zencalian Confederation (the nation in which most of my regions reside), the "item balls" you find can look like great balls and ultra balls in addition to the plain poké ball. "Ultra item balls" usually hold important things like key items rather than normal held or medicinal items, so be careful while traveling through Accolanto—that enticing item ball that you think holds the key you need to sneak into the bad guys' hideout might just be a Hyperboa instead... and although they usually go after medium-sized wild Pokémon, Hyperboa aren't so picky that they wouldn't try to eat a young trainer!
The name is not as uninspired as it sounds—"Hyper Ball" is the Japanese name for the ultra ball.
And yes, I know that pythons and boas are not the same kind of snake, but the "ball python" pun was too amusing to pass up. (And if Zangoose can be a "cat ferret" when a mongoose is neither of those things...)
Pokémon, Poké Balls, Ultra Balls, etc. © Nintendo et al, Hyperboa © me.