dA is Not Selling Your Works to Third Party Royalty Free
Hot Topic selling artist's works without permission
A Tumblr post has been circulating, where Hot Topic is selling artist's works as T-shirts in their store, including popular fan art without the artist's permission, deviant artists included. It caught on wildfire when one user linked to deviantART's
Submission Policy
, stating users gave permission to dA by agreeing to their Terms of Service thereby allowing dA to sell it to third party royalty free.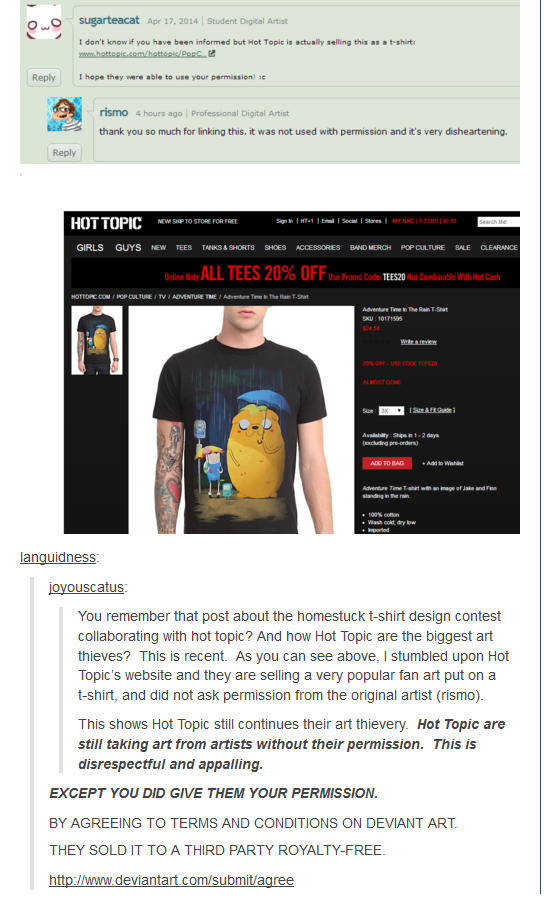 This is false and inaccurate!
"We appreciate the rallying of the community around the rights of this artist. Rights and ownership of artwork are an important cause which we do not take lightly. To clarify:

DeviantART does not retain any ownership nor right to ownership of any artwork posted to deviantART. The point of question in our Submission Policy is one which gives us the right to present the artwork you submit to deviantART on deviantART. As stated in our Submission Policy, "Artist at all times retains all right, title and interest in and to the Artist Materials provided by Artist hereunder (including, without limitation, the copyrights in and to the Artist Materials), subject to the non-exclusive rights in the licenses granted to deviantART under this Agreement." Thus, artwork posted to deviantART may be used in promotional material for deviantART (with all due credit for the work included), but never for non-deviantART commercial purposes, and never without express recognition of the original artist. The artist also always retains the right to remove the work from deviantART at any time, if they so choose.

By the same token, because we do not retain any ownership of artwork submitted to deviantART, we cannot license it to others either (be it individual or company) without the express permission and written agreement of the artist. From section 5 of our Submission Policy: "deviantART will contact Artist in writing about any individual commercial uses of Artist Materials instigated by deviantART." If deviantART had been involved with this situation in any way, the artist would have been contacted in writing long prior to any commercial use of the artwork.

We assure you that we had no involvement of any kind in this incident. Again, we appreciate the passion with which the art community has come together regarding these circumstances, but as with all things, we're always on the side of the artist."


---
Given the nature of this post, I feel it's necessary to post the right information in here as well, considering seeing the notes and comments that users are posting without checking anything, or falsely misrepresenting the policies. Always clarify it from authentic sources or contact them (They don't bite!). Have a pleasant browsing and interaction and apologies for the interruption!
You can always contact dA to get the info, such as these:
deviantart Tumblr.
Does deviantART own my art?


Please do spread the right news by re-blogging deviantART's response of the correct interpretation of the policy and this as well so users can see it here as well rather than the out of context one or any that you may find.


---
Edit:
:
Here's
the artist's explanation. It's officially licensed.
For this time!