Tagged by
TheLadyOfTheChibis
Rules
1. Choose 2-3 characters...2. Make them answer...3. Tag some friends
Alright, I choose my main man
Shreety
, everybody's favorite robot girl
Zeta
, and someone who deserves more love. My pumpkin thug,
Joseph
.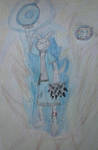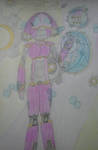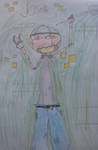 Questions
1. What do you do when you have a crush on someone?
Shreety:
I don't crush, really. I just see a pretty girl, and try to get their number. Simple

Zeta:
Oh, um.....Well I guess I would try to my best not to show, and uh...Well I spend a lot of time around my friend Atlas, and I guess I'd spend time with my crush too, and...Um

Joseph:
Just walk up, and tell 'em! I don't keep secrets......Wait, forget I just said that

2. What's the sweetest thing someone has done for you?
Shreety:
Probably my friend Bunny hugging me, after she thought I was dead. And told me I'm like a brother to her. Do NOT tell her I said that though

Zeta:
My friend Atlas bringing me pretty things from the outside when we were still locked up. Even sweeter, he broke me, and our other friends out of that awful place

Joseph:
My parents making me. Other then that, I'd say my friend Jeff helping me through some rough times

3. Which one of your mutuals do you really want to hug right now?
Shreety:
I really only hug my friends when I get emotional...
Zeta:
A-Atlas...He's done so much for me, and others....Plz don't tell him
Joseph:
My friend Cindy. And don't look at me like I'm a perv, cause I am

4. Heartbeat: What fictional character do you love?
Shreety:
Any Waifu I can think of. What? I'm a simple guy
Zeta:
I don't remember their name, but I read this wonderful book, about a couple trying to be with each other, with the world against them. It reminds me a lot of how I feel about me and my friends, ever since we escaped

Joseph:
Eh, this one lady from a soap opera I used to watch as a kid I guess


5. Romance: Perfect date?
Shreety:
Any ideal date that'll let me score
Zeta:
A nice picnic, on a hill during a beautiful sunset. With fireworks out in the distance

*I really wish me and Atlas could have that

*
Joseph:
I dunno. Maybe just a casual walk through town, at night morning. Preferably sometime quiet, where the town's less busy


6. Joy: What truly makes you happy?
Shreety:
My friends' safety, and the sweet destruction of my enemies' stuff
Zeta:
Being able to interact, and live in the outside world. Meeting, and helping new people. And having freedom, with my friends
Joseph:
Other than having an actual gun, and being a gangster for good. I'd say just seeing my parents happy


7. Happiness: Who are your kin?
Shreety:
I wish I knew....But my friends are kind of my family, in a way
Zeta:
Technically, I don't have any...But I like to view my friends as my family
Joseph:
My parents. I have cousins and other relatives, but I barely even know them


8. Love: Are you, or have you been in love before?
Shreety:
Not really. Romantic Love isn't really my thing
Zeta:
......*Atlas*.....
Joseph:
I had a crush on this girl once when I was kid. If that even counts


9. Beloved: What do you love the most about yourself?
Shreety:
My wicked ass powers. I love being able to stretch, and slingshot myself. Plus, being able to change my body into metal also kicks ass
Zeta:
Hmm....I'm not really sure. I guess I love how I'm not mean like the other robots, that're always coming after me and my friends
Joseph:
My mad charm. That, and my skill with a shovel


10. Sweet: Favorite love song?
Shreety:
I don't really care about love songs
Zeta:
This beautiful song, Rocketeer I discovered once. [link]
Joseph:
Halo, by Beyonce. [link] Tuned into it once on the radio as a kid. Been listening to it since


11. Cute: What's your aesthetic?
Shreety:
My dirty clothes? Or maybe my *Also dirty* white fur
Zeta:
I'd say my shields, and the color scheme I was designed with
Joseph:
My big 'Ol jack-o-lantern head


12. Thoughtful: If you could change your name, what would you call yourself?
Shreety:
Nothing. I like my name, I gave myself it anyway
Zeta:
I'm content with my name, thank you
Joseph:
Why in the Ho-Hoe-Hell, would I change the name my parents gave me!?


13. Charming: Who helps motivate you?
Shreety:
My friends. Phoenix, Malice, and Bunny especially
Zeta:
My four friends. Especially Atlas, he always makes me want to go forward
Joseph:
My buds. Jeff, Steve, Cindy, and Andr. My parents also motivate me, but in a more indirect way


14. Beautiful: Who is your ideal significant other?
Shreety:
Cute, kinky, generous. And plenty of curves
Zeta:
I would have to say somebody who's generous, outgoing, and strong. Someone who'd never give up, and.....*I just described Atlas

*
Joseph:
As long as she ain't a bitch, or prejudice. We good


15. Affection: Who do you ship?
Shreety:
Nobody. I don't play dat
Zeta:
Ship..? I'm not sure what that means
Joseph:
Everybody. Just call me Noah


16. Kind: What Pokemon would you be?
Shreety:
The one that's their version of God
Zeta:
Um, I'm not really sure what that means
Joseph:
Greymon


17. Heart Beat: You're getting coffee with a celebrity, who is it?
Shreety:
Bitch, I am a celebrity. I've been on the news, and Live TV plenty of times now
Zeta:
Hmm. Well I don't technically have a mouth to drink coffee, but I suppose I'd like to spend an hour with one of the nicer Celebrities. I'm not good with names, sorry

Joseph:
Captainsparklez


18. Giggle: Do you believe in love at first sight?
Shreety:
Eh
Zeta:
Well, I believe love takes time, and effort....*I don't have a crush on Atlas for nothing you know*
Joseph:
I believe in a lot of crazy shit. But this is not one of them


19. Laughter: Who can always make you laugh?
Shreety:
My pal Phoenix. Me and him always fuck around, and get into trouble
Zeta:
My friend Flash. He's a jokester, and loves to make others smile
Joseph:
Eh, I make myself laugh more than others


20. Smile: What do you find attractive?
Shreety:
Curves, and a tolerable attitude
Zeta:
Selflessness, kindness, and overall personality
Joseph:
I like a girl that ain't afraid to be herself. So honesty, I guess


21. Warmth: What is your happy place?Shreety:
Pffft. I don't need a happy place
Zeta:
A beautiful forest, or meadow. With pretty plants, and happy animals
Joseph:
A throne room, filled with guns and money. That also has my name on it. Other than that, I'd say my parents home. The place I grew up


22. Huggable: What are your favorite flowers?
Shreety:
Any kind that'll eat whatever I toss it. Like a giant fly trap
Zeta:
That's a hard question. Atlas would bring me all kinds of flowers, but I think my favorite would be Azaleas
Joseph:
Is weed a flower?


23. Soul Mate: Who is your best friend?
Shreety:
My pal Phoenix. Ever since freshmen year
Zeta:
Atlas ^^ He's done so much for me, and others
Joseph:
My man Jeff. Sure I piss him off, but he's always stuck with me


24. Unique: What qualities do you look for in other people?
Shreety:
As long as they're not evil, arrogant, demented, and can put up with my brand of Bullshit, then we cool
Zeta:
I like people that're kind, and able to reach out
Joseph:
If they can withstand my insane antics


25. Trust : Do you trust people easily?
Shreety:
I've been around some weird places, and met some maniacs, and villains. So, I'd say kinda 50/50 with trust
Zeta:
I do, but I am cautious
Joseph:
Nnnnnnnnot really. It takes a bit more than a simple "Hello" to gain my trust


26. Dearest : What item is most dear to you?
Shreety:
This old necklace I've always had. I don't know where it originally came from, but something about it just feels....Homely
Zeta:
This nice trinket Atlas once gave me
Joseph:
My hat. My dad gave it to me when I was a kid, and I will mess someone up to protect it
Tags:
HyperFlannel
SkyiplierDeviantart
*Cuz y not*
BustyBeth69