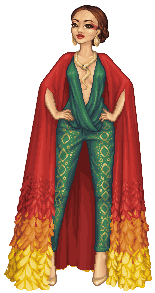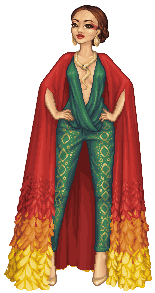 Watch
You waited all pageant to know why I picked Mexico (no you didn't), AND THIS IS WHY! Quetzalcoatl!! The best snake-bird-thing there is!!! I'm not crazy pleased with it, but it's done. The green part turned out just how I wanted. The cape.... not so much. I wanted to tie in some aztec-like patterning, but it was just having none of that. Last minute feathers ftw.

Baseless

FRIGGIN INCREDIBLE! ;u; these colors can be pretty hard to pair together without them turning into an awkward Christmas svcheme, but you manadged to di it wonderfully! I really love the patterning and folds, but most impressive are how you did the feathers! *u* Also her accessories, makeup and hair are friggin amazing! She looks so noble!
Reply

Thank you! I knew that I had to make it red and green, because Mexico, and also quetzalcoatl is often red and green. So I'm glad to hear that it's not Christmassy, because I knew that was a risk.

Reply

this is amazing
WOW
i need her to be my best friend. such flawlessness.
Reply

That's epic! Can you do one for me please?
Reply

I thought I had you! I HAD YOU! then you made this (and that other one) now we shall have to wait and see who emerges victorious! I hate you a little bit right now, in the best possible way.
Reply

Ahaha! We will see who remains victorious, because I for the life of me couldn't call it. You did make a sharkponcho (and that other one), and that was glorious
Reply

This is really beautiful. Bold and vibrant colours. Great outfit. I'm especially mesmerized by the feathers on the bottom. Looks so smooth and soft.
Reply

amazing design honestly,stuff like this that reminds me so much on why i love pixel art
Reply

Yesssssss Quetzalcoatl is the best!!! I love how your last minute feathers turned out. She looks kickass.
Reply