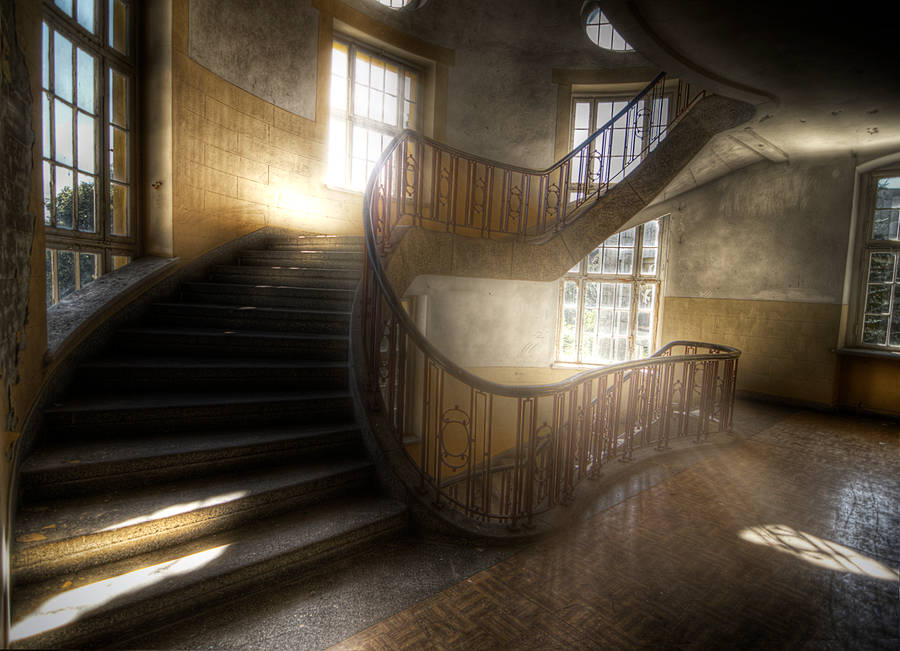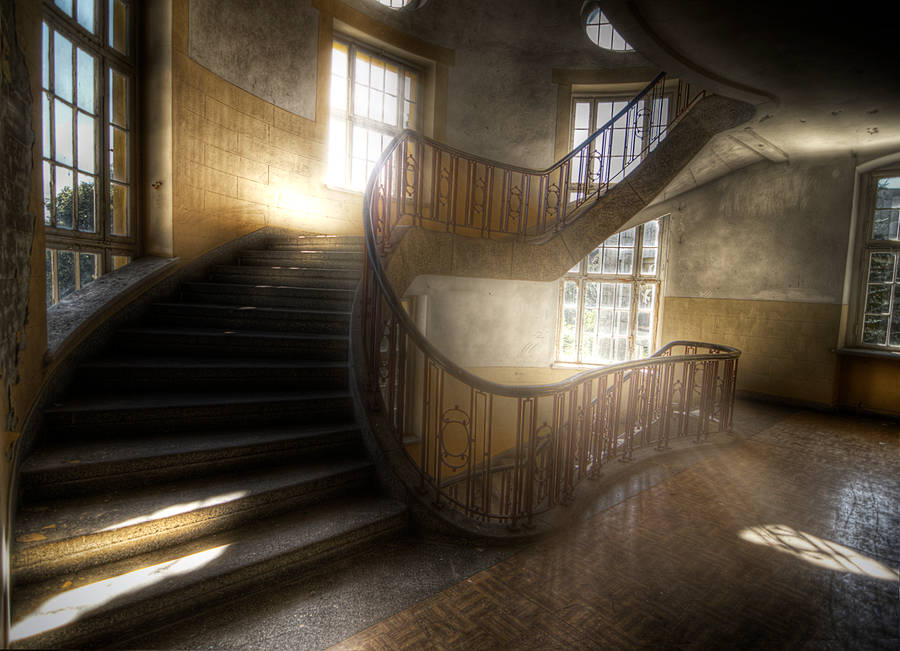 staircase in an abandoned military complex near Berlin, Germany

---
Nikon D7000
Tokina 11-16mm at f2,8/11mm
Just a fantastic image. The light play and contrast (or lack-thereof) give this such an eerie feel. The layers of lighting are wonderful, the slight spot at the bottom-left of the stairway catch my eye and begin my journey up. The subdued light in the first window set a tone and make me pause for a sec to take a peek, but don't stop my eye from climbing. The brightness of the middle light stop me at the top.

But that isn't the top and I have to break free from that strong highlight to travel up the rest of the stairway. I'm not really sure if that's necessary to tell the story. I'd take a shot at cropping just to the left of that third window. It competes with that highlight at the lower-left for my initial attention. At the very least the window on the far-right should be cropped out as it's a distraction and doesn't really add anything to the view. I'd also clip that little bit of window above the main highlighted window just to clean things up a bit more.

Last little nit-pick is that, cropping out that right-window but keeping the third one in the image, I'd use the crop tool to straighten that window. As it is now it's leaning off to the right. Using a wide-angle lens will create these little distortions so cleaning them up help make the image for natural-looking.

Hope this helps. Really fine work, I do like it a lot.
The Artist thought this was FAIR
5 out of 5 deviants thought this was fair.
This work is pure art, the world of fantasy through the lens of the artist, Imacting indeed, caught my eye yet in the thumb of the picture!
Looks magical, the light and shadow composition, it makes one´s mind wander in every single point of the photo, it succeded to amaze me, and is hard being used to watch this type of decayed places photography! The light shadow play is fascinating as if the lights and shadows were flirting each other, very well placed, with a strange sense of warmth , like welcoming, romantic and mysterious but like taken from a dark fairy tale book.
The Artist thought this was FAIR
1 out of 1 deviants thought this was fair.