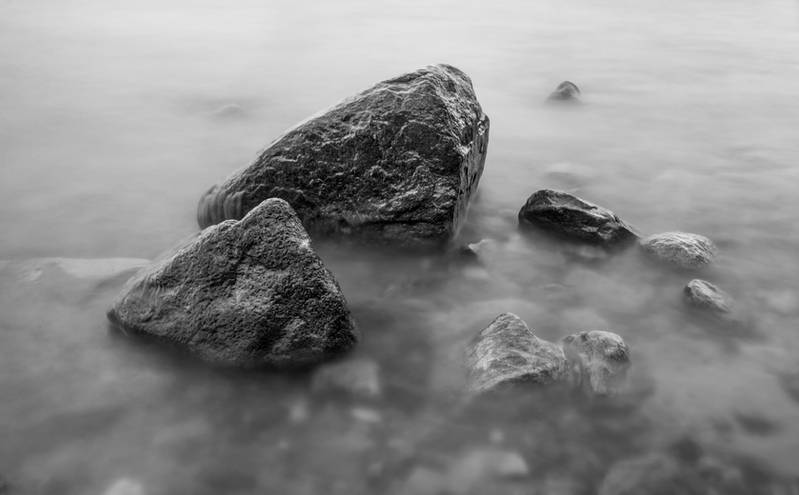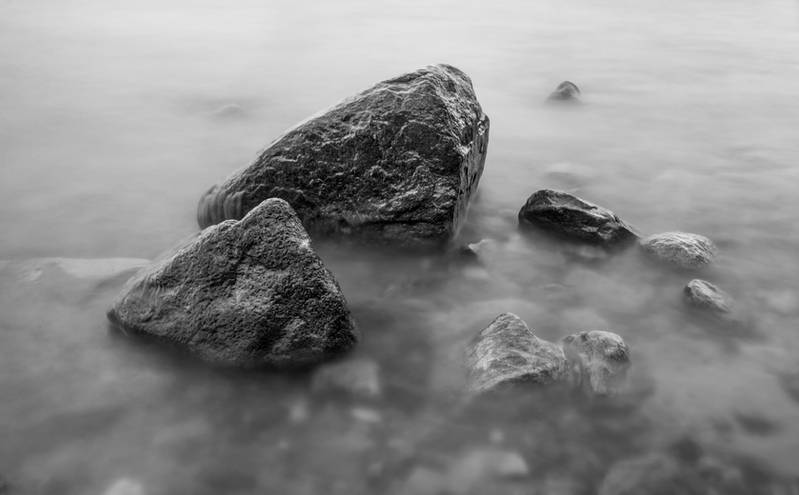 Long Term Exposure of a rock formation in the ocean
Zu Beginn: Langzeitaufnahmen mit Wasser sieht man ja häufig. Viel außer einem Stativ und Zeit erfordert das auch nicht, ich finde aber das die Perspektive wunderbar gewählt ist und auch dieses Gefühl, das beim Ansehen rüberschwappt (gerade bei den kleineren Steinen im Wasser) ist etwas besonderes.
Es sieht fast ein bisschen wie Nebelfelder aus.
Wären die größeren Steine nicht da, könnte man die kleineren für Inseln oder Inselgruppen halten. Ich finde, es sieht fast wie eine Makroaufnahme aus, aber dann hätte die Kamera ja unglaublich nah dran sein müssen. Das kann ich mir nicht vorstellen, wenn das am Meer ist - es sei denn das Wasser war unglaublich ruhig oder es gibt einen Spritzschutz oder sowas. Ich glaube ich hätte da Angst, dass mir Sand oder Salz in die Kamera kommt.
Also quasi etwas Altes genutzt und es mit viel Geduld (und Mut) besser gemacht

Find ich gut! Auch grad das schwarz-weiß ist in dem Bild genau richtig. Ich finde es auch sehr eindrucksvoll, dass man die Bewegung des Wassers gar nicht nachvollziehen kann. Genau dadurch - obwohl man weiß, dass es eine Langzeitaufnahme mit Wasser ist, wirkt es unglaublich ruhig. Fast schon zu ruhig. Also ruhig genug um unglaublich aufwühlend zu sein.
Es hinterlässt einfach etwas unglaublich mystisches und mythisches.
The Artist thought this was FAIR
2 out of 2 deviants thought this was fair.