🧛
Vampiric Tendencies
🧛
Kanti
and they're open!SB: $300 | $500: Unlock Changeling Form | AB: $1000
Auction ends Oct 28th, at 11: 59 PM PST
If you'd like to purchase the design with a payment plan please note before bidding!
"A taste of glamour, a touch of vampirism...."

◣━━━━━━━━━━━━━━━━━━━━◢
As always, there is no need to keep to the stories written for these characters. I tend to write down the inspiration for the design initially, but you are free to write up something completely different! This story is written with the changeling form explicitly in mind.
TW: Injury, Death
...
The thundering of hooves filled the air, yells of anger, panic, vitrol trailed after the Kanti that made their swift exit. The moon shone high as they galloped down the road, out of the town and into the neighboring forest.
The pinpricks on their neck burned. They cursed the being that bit them, a terrible creature with a friendly face, disguised as a beggar, someone in need. Foolish they were to have fallen for it, only to have that creature charm them with a spell. They were the perfect victim, feeling those teeth sink in, feeling the burn as their body was drained.
The town turned against them first, not that they were particularly friendly to begin with. Their "dark magic" was always the subject of superstition, and now with the bite mark branding them a danger, a "monster", the town gathered to take care of the problem, knocking on their door to take them away. But when they wouldn't cooperate, more physical measures were attempted, and that wasn't taken well. Dark tinted magic shot out, and during the panic that ensued the kanti was off. Once the people realized they had gone, a hunt began. The cavalry loaded their weapons as a small group directly chased after, those who came armed.
They'd been feeling the pull of whatever ailment they were under for the last few hours, the burn slowly spreading through their body. Anger bubbled within them as they thought of themselves succumbing to whatever influence had been brought upon them. They wouldn't be so weak as to let whatever this was win.
Or so they thought, a stray arrow flew, and connected. A tumble, a full body skid, and the struggle to try and stand, to keep rubbing, keep going. Nothing but gurgles escaped their throat, the arrow having pierced right between the bite mark. The burning was immense, and their anger grew, feeling as though it was pouring out of their body.
The cloud dissipated, and standing before the few that had managed to make it this far, was a golden Kanti, eerily beautiful in the moonlight. The group looked on in confusion, and as they stared at this imposing figure, it smiled, terrible and bright.
The screams that echoed through the forest stopped the rest of the charge, sending a chill through every spine. When they reached the group that had gone ahead, all they found was their bodies, drained of their blood and torn to pieces. In the distance, a laugh echoed through the forest.
◣━━━━━━━━━━━━━━━━━━━━◢
Rarity Key:

| Common

| Uncommon

| Rare

| Mythical

| Event/Seasonal
◣━━━━━━━━━━━━━━━━━━━━◢

Vampiric Fangs


Dark Conduit


Cross Conduit


Jagged horns


Full Tail


Sleek Ears


Pointed Cap Hooves


Razor Claws


Common Markings

Changeling Form

Changeling (Fall)*

Crederians who have gained a second form, a "true" form, through some magical means or through some sort of not so divine intervention...
- Vampiric Fangs
- Vampiric trail Conduit
- Dagger Hooves (hoof conduit shapes)
- Colorful Sclera

Horned Helm Conduit


Trailing Locks

...

Mythical Horns


Dark Conduit


Full Tail


Flicker Conduit


Lynx Tip Ears


Razor Claws


Common Markings

◣━━━━━━━━━━━━━━━━━━━━◢
This kanti does not have a concept sketch available. but here is a sketch showing the shape of their conduit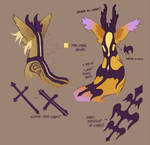 *Changelings are available year round, but the type of changelings will change with the season. Fall changelings encompass things normally found during halloween. Changelings are alotted a bundle of available seasonal traits that can be used to create fancier or stranger crederians without having to focus on rarity as much.
◣━━━━━━━━━━━━━━━━━━━━◢
Kantis are a species by
PhloxeButt
for use in
Crederia

Image details
Image size
1300x1570px 1.79 MB