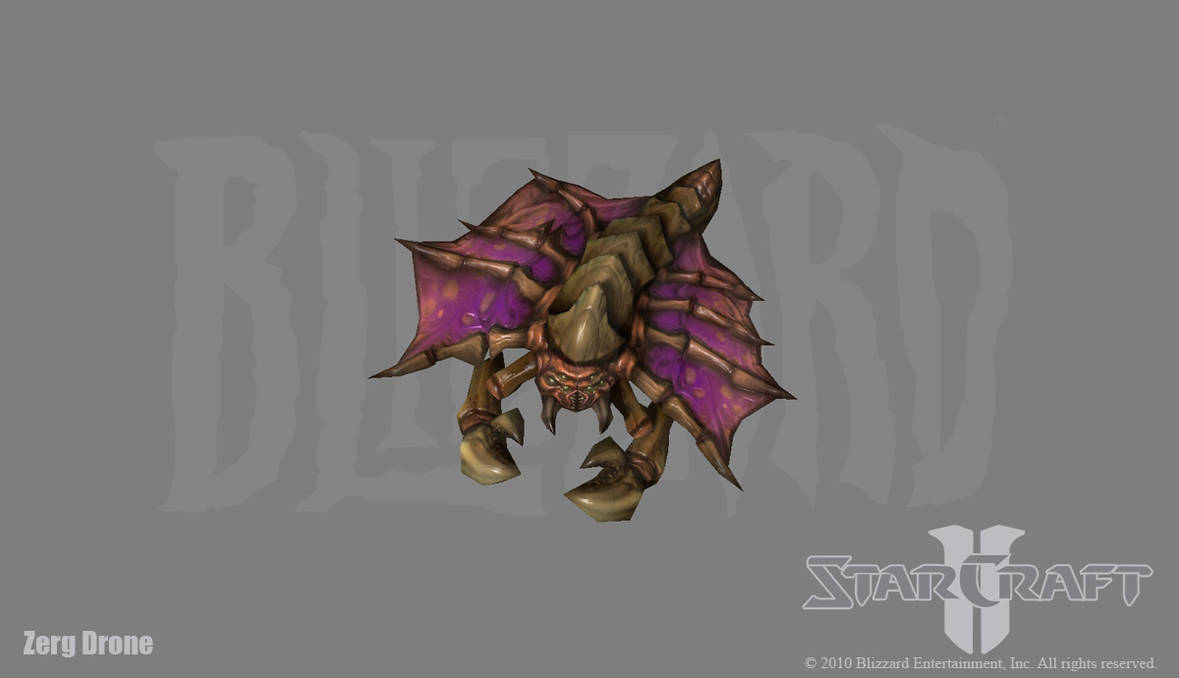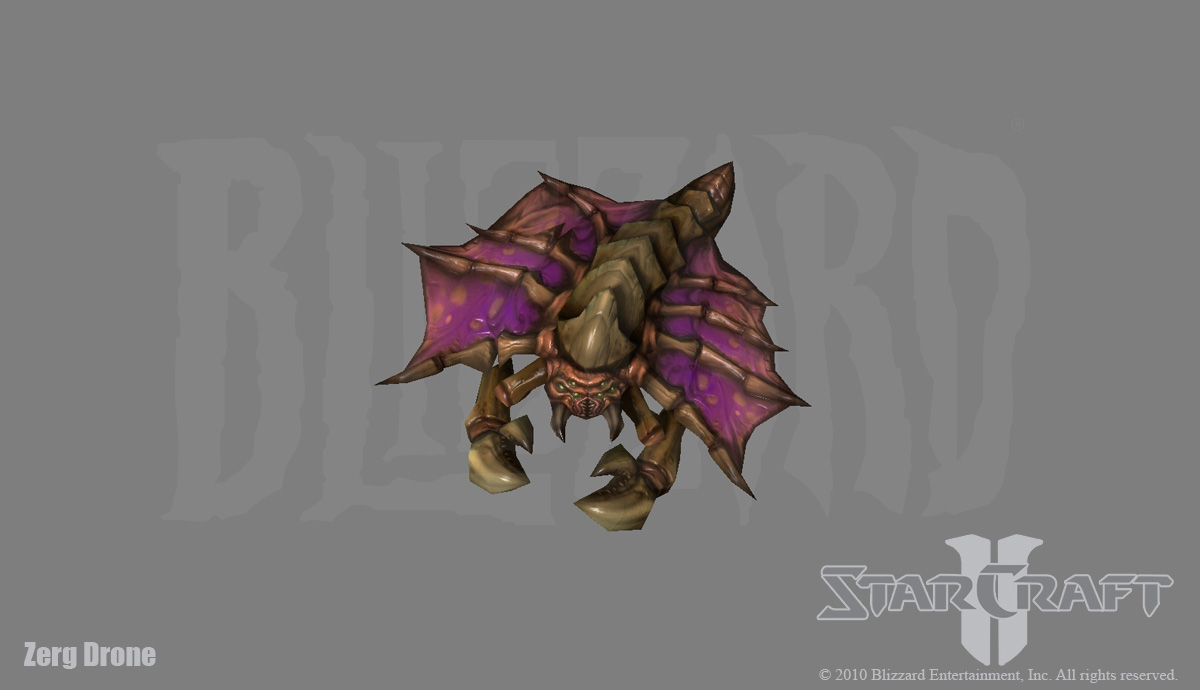 Watch
Starcraft 2: Zerg Drone
Model by Phill Gonzales & final textures by Ted Park!
Animated by Jay Hathaway

The Zerg Drone is very special to me because it spearheaded a sweeping wave of revisions on the Zerg race as a whole. The original Zerg Drone model was created years ago at the start of Starcraft 2ís development and never updated, only finally being animated when Blizzard premiered the playable Zerg at BlizzCon. The portrait model for the Zerg Drone was done already by that time by another Starcraft 2 artist, Jesse Brophy. When the revision was tasked, it was simply requesting that the design be enhanced with more surface detail and the head adjusted to match Jesseís portrait artwork.

On the Starcraft 2 team, the response to the updated artwork was extremely positive and compounded into tasks for additional cosmetic updates of other older Zerg units such as the Larva, Baneling, Hydralisk, Overlord, and Overseer. As the race became more unified visually, even morel tasks were made to continue revitalizing the older artwork on the remaining units as well as the Zerg structures. Eventually the entire Zerg race looked very cohesive and artistically unified thanks to the humble beginnings on the Zerg Drone revision.

© 2010 Blizzard Entertainment, Inc. All rights reserved.

i want it as a Mount in World of Warcraft...
Reply

The drones are special to a lot of SC players, myself included. I love them because they don't just build a building like the SCV, Orc Peon, or Human Peasant, or "warp" it in like the protoss probe or undead acolyte, but burrow into the ground and _grow_ into the building they're creating. (I also like the night elf wisp for the same reason, even if it does add a little more to the structure's cost.) That, and it's so gross to watch them mutate that it's really cool. I love the upgraded animation in SC2 when a drone morphs into a building, how you can see the mutating drone swimming around inside its cocoon as it transforms. Whoever came up with that is brilliant, because it's a really neat touch.

Man, I so want a drone plushie now. You know it'd be really cute.

BTW, have you seen the "monster-musume" version of the zerg drone? She's really sexy and cute! (And that's not something we can usually say about the zerg!)
Reply

I got into a huge debate on which was stronger, the Zerg vs the Flood. Eventually we narrowed it down to starting at the very basics and it was pretty much just down to like 5 larvae vs 5 infection forms and who could grow their empire the fastest. Since these things would be one of the first units out and it was based on a predator (The Savage Vashyrr Wasp I think) it would be able to gather materials quite fast. My opponent's reaction was this.

Him: Well that's not fair, that thing's like the size of a car!
Me: Not my fault the flood doesn't invest in competent collectors.
Reply

Reply

Yeah, I just wish that he had the same logic as you.

I mean this guy was VERY adamant about what he said and barely listened to what I said. Like how the Zerg can thrive practically anywhere because their race is literally composed of Apex Predators. When I pointed out that the Flood couldn't infest Char without losing a lot of resources he tried to drop the topic. (They couldn't even survive there anyway. The Flood primarily work with Calcium which requires Rock and Water. Rock is quite abundant on Char but not so with water.)

He even insisted that Char on its lowest temperature would be just like warm day to them when it would actually be near boiling point as in just 10 degrees until they start literally dying from heat. Oh and this is where his logic just became backward. He practically insisted that the Infection Forms couldn't be killed by an eagle and that their bodies are mostly muscle... even though EVERY Halo fan knows for a fact that them popping next to each other causes a popping reaction... That's definitely not a signature trait of muscles... that's a signature trait of balloons.

I just wish more people had logic.
Reply

I really love debates like that, when the people I'm comparing units to use reasonable arguments. Kind of like how I was imagining how a Trueborn Clan Elemental from BattleTech would stack up against either a Terran Marine from StarCraft or an Adeptes Astartes Space Marine from Warhammer 40k. (We decided that the WH40K space marine would wipe the floor with the Elemental, in armor or out, because the Adeptes Astartes have extra organs and modifications to make them ridiculously tougher than an Elemental, who is just the end product of 300 years of selective breeding for size, strength, endurance and toughness. In armor, it's not even a fight. Clan Elementals have jump jets, making them more maneuverable, but the Space Marine has a severe advantage in both range and firepower.)

Makes me wonder, though... in a straight-up fight, each side having roughly evenly matched forces, who would win--SC2's zerg, or WH40K's tyranids?
Reply

Probably the Tyranids. Tyranids are a lot more diverse and customizable due to the different type of gameplay the two games have.

I've just come to realize that the Zerg are essentially 'Watered Down Tyranids'. I just haven't been able to accept it before because of how the Warhammer 40k fandom usually smears it in the Starcraft fandom's face.

As they are now, the Zerg wouldn't stand a chance. However I do believe that if the Zerg were allowed to expand themselves as the Tyranids have. They would eventually be able to outclass them. The Zerg Strains are generally more balanced and more well though out than the Tyranids. If we were looking at just the weaponry that are comparable such as Scything Limbs and Zerg Claws. The Zerg claws would actually win due to having natural mono-molecular edges.

Even just looking at the basic Hormagaunt and Zergling, the Zergling would probably win in a 1v1 fight if it was just scythes, claws, and teeth.

This is because there's no such thing as a mindless beast in the Zerg Strains. All of them are Apex Predators that don't bother ripping and tearing if they can just end it in one blow. That and also Zerg naturally regenerate unlike the Tyranids in which Regeneration is only limited to certain Tyranids. Then there's also the fact that Zerg are also very resilient to dying. Unless you completely splatter their brain. They're going to keep on trying to kill you and regenerating.

Then there's also the matter of Psionics/Psykers. So far there is only one truly Psionic Zerg, and that is Kerrigan, the Queen of Blades. She alone could probably match a small Tyranid fleet, seeing as of how she can use her powers to control wind and cause it to lash around in a storm that shreds anything inside of it, or grab a 2.5km long spaceship from orbit with her powers, crush it, and bring it crashing down onto the planet to destroy any ground forces beneath it. She's also durable enough to survive getting slammed into by 3 NUKES (I did the math on that one).

Now imagine if the Zerg actually developed Psionic troops? Obviously the abilities wouldn't be as strong as Kerrigan's. But they would definitely be able to do more than just make Blasts of Energy. They definitely wouldn't hold the risk of burning out mid-combat and they definitely wouldn't possess atrophied bodies.

To sum this all up. The Zerg could become something greater than the Tyranids if they weren't restricted to the need of Game Balance. But as they are now, they'd lose.
Reply

The Drone has always been my favorite unit in all of Starcraft, to to hear that it had such in influential impact upon the zerg's design direction as a whole for Starcraft 2 warms my heart.
While I have a softspot for the classic Drone's big compound eyes and fangly maw, the new model is lovely too. It'd be neat to see you guys put out a Classic Drone model. I've often wondered how exactly they shot their ranged spine attack.
I was actually one of the first, of not
the
first, to upload Drone fanart onto here at deviantArt. I was 15 at the time, but that didn't stop me from trying!
ekoi.deviantart.com/art/Drone-…
Thank you again for Drone.
Reply

I find the drone really sexy ♥
Reply

Reply

I have a question: A Drone would have the same size of a scv? if so, it must be huge and someone could mount it like a horse or something?
Reply

It's interesting that the Drone is the one that sparked off all the modifications. His face is fantastic, and thos claws look like they snip right through the crystalline mmmiiiiinnnnneeeerrraaaalllllllsssssssss.
Reply

Never thought that a drone has so scary mug
Reply