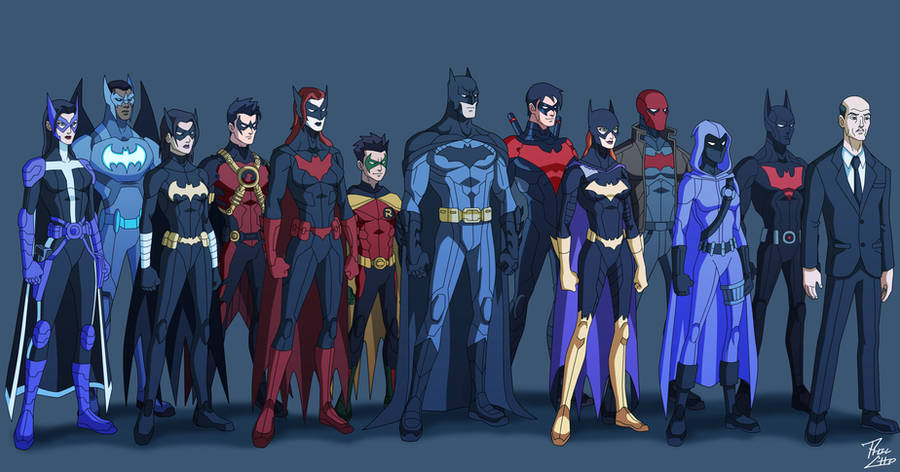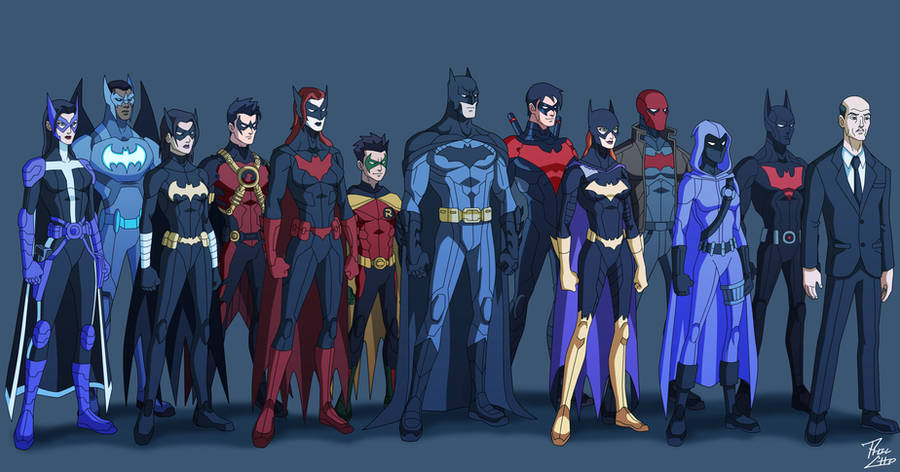 Enjoy!! Here are Gotham's crusaders from left to right: Huntress (Helena Bertinelli), Batwing (David Zamvimbi), Blackbat (Cassandra Cain), Red Robin (Tim Drake), Batwoman (Kate Kane), Robin (Damian Wayne), Batman (Bruce Wayne), Nightwing (Dick Grayson), Batgirl (Barbara Gordon), Red Hood (Jason Todd), Spoiler (Stephanie Brown), Batman Beyond (Terry McGinnis), and Thaddeus Crane (Alfred Pennyworth)

Of coarse there are more crusaders like Gordon, Azrael, Blue Beetle, and the likes, but I consider these guys to be in the family of Bats and Birds.
I love this piece; not gonna deny it. I LOVE it. It's a great show of all of the great characters that have come out of the Batman comics so far, as well as showing us as fans how far it has all come. I like the fact you included all the recent changes to the DC universe, as well as new characters to add to the Bat-Clan (i.e Bat-Wing) I love the use of colors as well as the light and dark textures being used, I like the fact that you gave real depth and character to each of them, makes them seem more real. overall, i would say that this is a great piece of art

The Artist thought this was FAIR
94 out of 94 deviants thought this was fair.
all i can say about this is that this is freaking awsome, i would like to have a picture of my ocs on that style, but ofcourse i cant pay a commision, any way i likethe details of Huntress, Batman, Batwoman, Red Hood, Nightwing and Batman Beyond, you do a great job, let me give you an advice, why dont you try to draw ocs of another people, it could be fun, is just an advice or a suggestion, however, i like the deseing you did a great work, is all i can say for now , have a nice day
The Artist thought this was FAIR
44 out of 48 deviants thought this was fair.