New series beginning today.
Dynamic combat situation stock images from different angles. We took more than 1300 photos this time.

The gear is from Russia (Stich Profi) and the camouflage is from Germany (Concamo). It`s all brand new 2018 gear... so it might be pretty interesting for modern and future projects.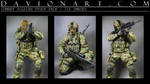 model:
PhelanDavion
Stock Rules @
PhelanDavion
Produced by
www.DavionArt.com
Big thanks to my involved sponsors:
STICH PROFI (
promo.stich-profi.com/
)
CONCAMO (
www.concamo.com/
)
NONVIDE (
www.nonvide.com/
)
SNIPER-AS (
www.sniper-as.de/
)