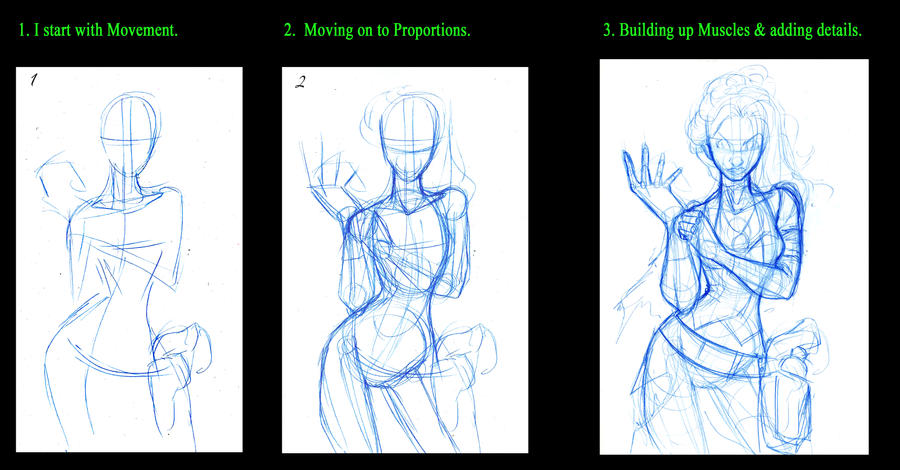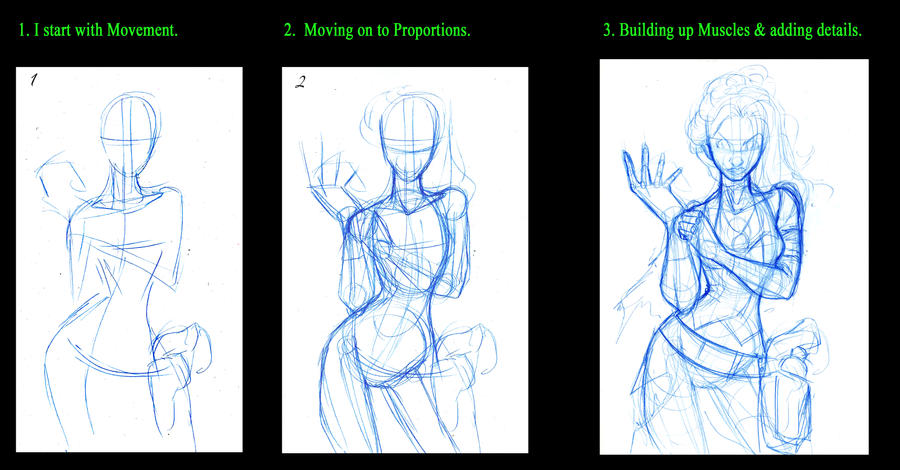 Watch
I thought I would finally do a sort of show-and-tell of how I draw. This is, in no way, a tutorial. To start, I use my basic tools, cold press sketchbook paper and a Blue Col-Erase with some finishing touches in Photoshop. I don't use thumbnails though they are extremely helpful in some circumstances. I start with an idea and let it sit and stew for a few days before I draw it. With this one, the idea came from a book I just finished reading. Lady Sarah Stanton is from Andrew P. Mayer's excellent book, 'The Falling Machine, The Society of Steam, Book 1.'

Step 1. Movement.

I love movement in a piece. It makes or breaks the art. I like flowing lines, thus I start with a curved 'S' for the spine and a long 'C' for the hips. Then a series of curves to define shoulders and neck. This is sort of defensive pose, notice how all the lines are tightly tucked in to give the impression of a defensive stance. I added some lines to define where I wanted the arms and a gun belt to go and finished off with a quick oval for a head. I drew some straight lines to decide where I wanted facial features to go, the breast to be and the hand to go.

2.Proportions.

A couple of circles is all I need to define rib cage and hips. Obviously female, I paid attention to how small the rib cage should be and how much wider the hips should be...even though this is a young woman, I still made sure to give her slightly wider hips. I then put in a 'V' for the hips themselves and some circles for the sockets there. I fleshed out the face a bit and added definition to the waist area and legs. I added some volume for the hair next. I moved onto the arms and drew some circles for wrist and elbows then fleshed it out. I finished by defining where and how i wanted the hands.

3. Roughing it all out.

I combined a few steps here so bear with me while I sort it all out.
First, I started with hands. I decided how I wanted each knuckle and drew some circles and lines to connect. I moved down each arm and added some more muscle. I curved out the breast a bit more. I decided I was done with the basic pose and armature of the character.
Second, Head. I drew a quick expression. She is pissed, royally. That's how I wanted it. Yes, the defensive posture is still there, but she's working up the courage to knock your teeth out. Hair was next and it had to be half up and half down to show that her refinement is slipping away.

Third. Research. I took a break to look up Victorian Day Dress styles which are very different from formal gowns. I began to flesh it out first by drawing some curving lines on the arms and legs (very faint now.) These help me decide what is moving back and forth in space. Finally some more touches like the gun, necklace and a hint of gloves.

Sorry for the novel, I just needed to get it all straight in my own head. It's so much easier to just draw it! All these steps I learned in college from professionals and through observation. My biggest advice is go observe and draw people. T.V. is also a useful tool for this. Take figure drawing classes or have friends model for you...bribe with food. Works every time. I do follow a formula and I hope I am describing it well enough to understand. Part 2 might be up later on tonight or even tomorrow. Thanks.

Edit: Part 2 is taking longer than I thought...sorry. Thanks to everyone who faved this...I can't keep up with them all so here's one big thanks!