Jesus...I've been gone awhile.
Forgive me if this is a bit of a ramble. It's late in the morning, I can't sleep, and I have work in a few hours, but I've put off this talk long enough. But yeah, I've been gone almost 3 years now. Lot's happened. All I can really say that I just fell into a depression for a bit at my lack of artistic improvement + my failing webcomic, and eventually retreated to an alternate account where I drew...questionable...art that I didn't want on my account. I'm not linking what this NSFW account is, I want it separate from what I do here, and I will ignore any questions asking if I'm this or that artist. I just want to explain what I've done for 3 years.
When I was on this NSFW account, I found a niche that boosted my confidence. Yeah I was drawing odd fetish and pervy art, but I was getting appreciated for it and even paid for it, so I just kept focusing more and more on that account and, between that and having some really demanding real life jobs, I ended up dropping this account like a sack of potatoes. I really regret that. I abandoned an account that had been my identity for most of my teenage years and early 20s. Yeah my art was shit at the time, but I had a lot of friends, communities, and plans I just dropped.
My NSFW account has done a lot for me. 3 years of constantly drawing has caused me to make boosts in improvement I never thought possible, as shown with the newest piece I've added (the first of many I hope):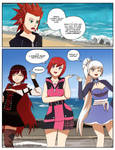 All I can say is, I'm really sorry, to both the friends I just parted away from, and letting this account fall to ruin. I'm hoping to change this in the coming months. You won't see sporadic updates for a bit though, as I'm going through a massive cross-state move from where I am currently back to my hometown in Oklahoma, plus taking care of responsibilities I have on my NSFW account before said move.
Until then, I just wanted to say, it's good to be back, and I hope I continue to be here and take this account to higher skies than it's ever seen.