Plywood - The Webcomic
This is an archive of Plywood: The Webcomic, created by Nathan Walton (AKA Moriash Moreau, AKA me) and Monica Young (AKA Chrestomanci Bard), and published online from late 2005 to early 2007. All comics were made using screenshots from the virtual world Second Life, with very little post-production (adding text, formatting, occasional greenscreen work). If you've never used SL, this won't make much sense to you. If you have, this is a nifty look at early SL history.

Back in 2008, Monica and I got together over coffee and reminisced about creating Plywood, as a sort of goodbye to the comic. We didn't make it through commentary on all the comics, so I never got around to putting it on the official (now-defunct) website. We've both moved on from SL (although I still maintain a token presence there, for nostalgia's sake), but when these were written, we were both still fairly active. Now that I'm posting the final art archive here, I'm going to include the commentary, as well as a few additional thoughts of my own as I go.

Enjoy!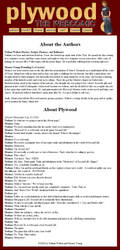 Plywood: About Plywood
Plywood: FAQ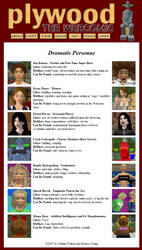 Plywood: Dramatis Personae

Plywood: Hello World, Part 1

Plywood: Hello World, Part 2

Plywood: Hello World, Part 3

Plywood: Clown Biology
Plywood: Let There Be Light

Plywood: La Fashionista

Plywood: Language Barrier

Plywood: Training Jon, Part 1

Plywood: Training Jon, Part 2

Plywood: Training Jon, Part 3

Plywood: Teleportation Trouble

Plywood: Out of Body

Plywood: Out of Mind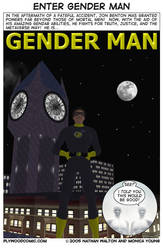 Plywood: Enter Gender Man

Plywood: Gender Man on Patrol

Plywood: Gender Man vs. Crash

Plywood: Gender Man Strikes Back

Plywood: Gender Man Revealed

Plywood: AFK

Plywood: Ursaphobia

Plywood: The Ultimate Weapon