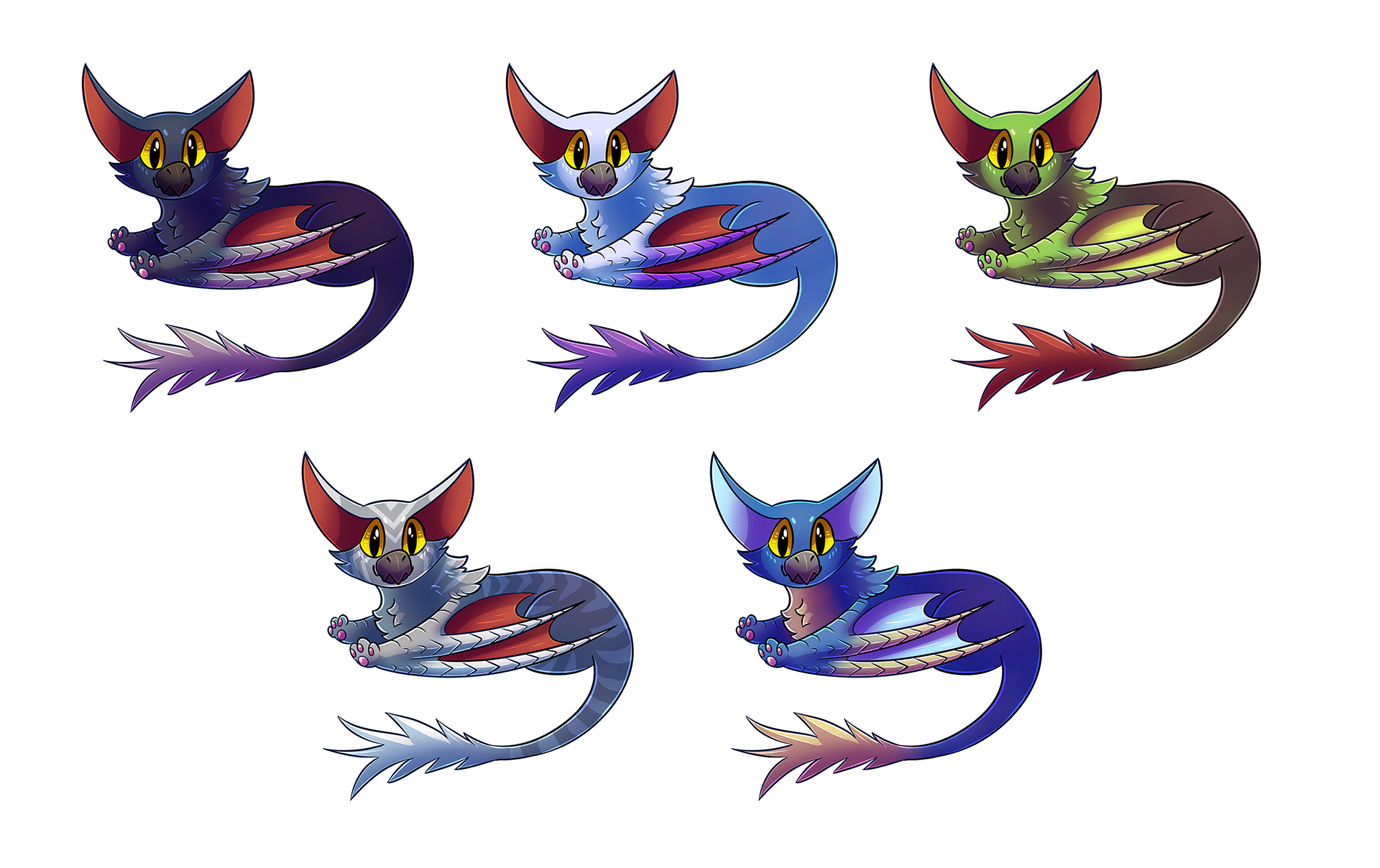 I was doing a Nargacuga kitten for one of the patreon requests... then decided to do all of the subs and deviants. They're too cute!

List of Nargas (Top to Bottom)

1: Nargacuga - The original!
2: Lucent Nargacuga (MH3U) - Death by invisible poison kitty.
3: Green Nargacuga - Like the original except meaner.
4: Silverwind Nargacuga - Want to make Nargacuga's fight harder? Give it ranged attacks!
5: Fiercewater Nargacuga - Watery kitty! Definitely wants hugs.

I do love the blue and green one alot!
good job

Reply

Yee! I've never fought against either of those in the main games sadly. (Fiercewater isn't even in the main games.) Green is in stories and is precious and huggable.
Reply

Lucent is the one fight I always wanted to have, but couldn't. It's one of the best-designed maneaters I've ever seen!
Reply

I never got that far into 3U- I thought the game was just -that- hard. A few hours into 4U I switched weapons and realized I was just REALLY bad at my weapon in 3U. xD I've heard horror stories of Lucent Nargacuga from friends though. xD
Reply

3U wasn't at all kind to the uninitiated. I loved my Dual Blades, then realized I was terrible at Insect Glaive in 4U, then switched back to blades in Gen.
Reply

I actually mained dual blades in 3U... But I was far from effective with them. I piked up IG im 4U and never looked back. XD I do love that about the series- many different ways to play for the many different playstyles- just gotta find what works for you!

I've picked up Bow in MHW and am considering playind DB again just to see if I'd do better now than I did in 3U. Part of me wants Gigginox to make a return so I can claim my revenge- he was my first big wall. I made it into high rank in 3U but not far into it.
Reply

Gigginox is one of my fave mons, oddly enough! It's a well-designed "creepy but cool" monster, unlike the corn puff dragon that is Khezu. I'd really like to see him and the 'gi family return, too.
Reply

And here I thought I was the only one who missed Gigginox. He's what Khezu's fight could have been if it were actually fun. He was challenging for me back then since I was still learning- but it was a FUN challenge- not annoying like Khezu is. I'd be overjoyed if they brought him back again.
Reply

And yet MH insists on bringing him and not Giggi back because...Gen I nostalgia?
Reply

It couldn't be -that- hard to bring Giggi back if Khezu is in the game. They use the same rig and animations for the most part- Giggi is basically a modified Khezu. At least for the DS games they already have the model/rig. Bringing him into MHW would require a lot more work (and they'd probably just bring Khezu back again instead). Gigginox was a genuinely fun fight- and as a beginner a good tough fight to teach me how to play.
Reply
(1 Reply)

They may be cute, but are they able to be tame and train?

Great job on these BTW
Reply

In Monster Hunter Stories you play as a 'rider' who can tame and ride various monsters. Nargacuga and Green Nargacuga can be tamed and you can kill other monsters with them.

Reply

I'll take the white one. Looks huggable enough.
Reply