Adopts from Pet Palace Adopts (aka PPA) are a little different from typical adopts so I made this guide as an introduction for new PPA Guardians! The main difference is that PPA adopts are interactive! You can visit them everyday to hug them, level them up, and evolve them!
When you receive a PPA adopt, you'll receive the high res artwork like a normal adopt - but you'll also get a PPA account where you can interact with your new friend!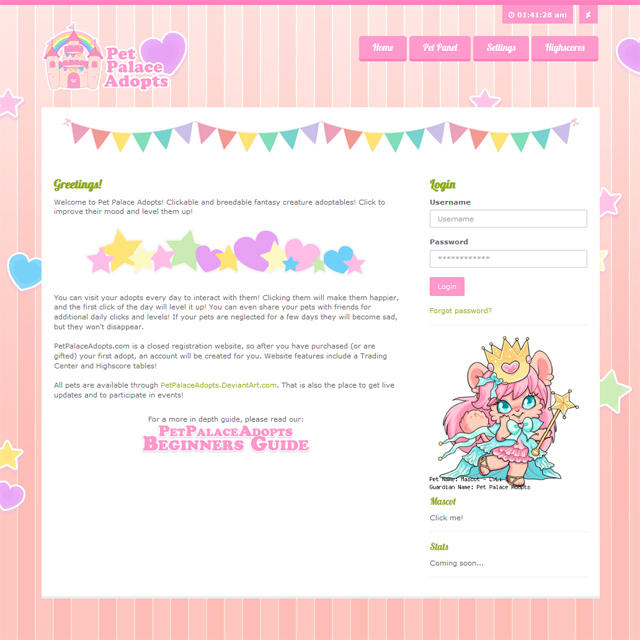 PPA ACCOUNTS
PetPalaceAdopts.com is closed registration, so after you have purchased (or are gifted) your first adopt, an account will be created for you by an admin. Your Guardian name (aka username) and email will be needed to do that. New members will receive a confirmation email with instructions to complete their registration by choosing a password and logging in.


PPA ACCOUNT FEATURES

Login page - for members to login
Change PW page - so members can update their PW
Public member profile - to display the Guardian's name and all their pets - each pet will redirect to it's own page. Example: www.petpalaceadopts.com/user/p…

Individual public pet pages - on this page the pet can be hugged and it's stats can be checked. Like name, level, pronouns, and total hugs. Example: www.petpalaceadopts.com/pet/pr…

Pet codes - when you are logged into your account, you'll be able see premade codes for your pets! Copy/paste these codes to share individual pets on the interwebs.

Pet order page - when logged in, members can change the order that their pets are shown on the members profile.

A clock - To reset the hug and level up time limit at midnight. Pets can be hugged 20 times a day per ip address and level up once a day on the first hug. The max level is 100. Members and friends do not need to be logged in to hug your pets!
Pet trading center (coming soon) - so you can swap pets with other PPA members.

NO ADS - because they are annoying and unnecessary! c:

You don't have to be stuck on the PPA website to enjoy your pet! You can share your buddy with others by using the pet code! When you are logged into your account, your pet code will show up on your pets profile. Copy & paste the code on your DA profile, Toyhou.se profiles, blog, website, forums, sigs, anywhere you can add a simple image link code.
Pets can be hugged 20 times a day per ip address and they level up once a day on the first hug.

Members don't have to be logged in to hug, so your friends can give your pets extra hugs!


If you find your pet image is a little to large after you used the code you can resize it by adding
width="200" to the code. Example:





This will shrink down your pet down to 200 pixels. You can use different numbers too like 100 to make it even smaller!

PET STAGES
Your pet will evolve through 2 or 3 stages. When you or a friend gives your pet a few hugs it will evolve! Currently each stage requires 15 hugs to evolve.

PET TYPES AND SPECIES
There are two types of adopts; Regular and Candygram.
+ Regular adopts will come in a official PPA species like Furmori,
Mewie, Ursamode,
Kingdom Plantae, Sugarpuffs, and
Bellwethers
. Guest artist adopts will become available from time to time as well. These are one of a kind and are typically available during auctions.
+ Candygrams are a free gift for my Patrons
www.patreon.com/Krisgoat (For Patrons who pledge $3 and up) and are not a designated species. They can be almost any animal or humanoid. For Patrons, multiples of the same adopt can be owned by people but they
are only available for a limited time, t
ypically for one season (3 months).
Once a particular Gram's time limit it up, it will retire! The only way to get retired grams is through my Patreon monthly giveaway.
I will also open custom one-of-a-kind slots for these every now and then!


BIRTH CERTIFICATES
Two adopts (except Candygrams) can "breed" to create "babies" using a Birth Certificate! If "parent" adopts are owned by two different Guardians they both must agree to use the Birth Certificate. They must also decide who adopts the "babies". Birth Certificate slots will be available via flatsales. The price will be determined by the number of desired babies!