For business enquiries, please email me gemsheldrake[@]gmail.com.


Art trades: No.
Requests: No.
Point commissions. No.
Commissions: Email me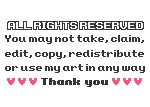 DO NOT REDISTRIBUTE MY WORK WITHOUT PERMISSION, I DO NOT CONSENT TO EDITING MY WORK AT ALL

-------Web-------

☆ Website
☆ Tumblr
☆ Twitter
☆ Facebook
☆ Instagram

-------Online comics-------

☆ Tapastic
☆ WEBTOON
☆ Smackjeeves
☆ Becomics
☆ G.M.I


-------Support-------

☆ PATREON SUPPORT
☆ Paypal donate

-------Shops-------

☆ Petitecreme UK ETSY SHOP
☆ Petitecreme INTERNATIONAL STORENVY SHOP
☆ Society6
☆ Redbubble
☆ Digital download store
☆ PETITECREME & DIVINESTAR




F.A.Q

Do you do commissions?
Yes, please email me gemsheldrake (@) gmail.com with what you're looking for and your budget.

Will you draw xx or yy?
If you pay me, yes.

I'm working on a project, will you do artwork for me?
Contact me by email! I respond faster there!

When is the next OFF comic update?
The comic was commissioned by Lynn-Gray and she has decided to not continue with it. Please respect our wishes and do not take my art/continue it as your own.

Will there be more copies of your Dark Souls 1 & 3 fanbooks?
No. I print a limited run of 50 copies and once they're gone that's it. Digital downloads may be available.