Journal Entry:
Thu Dec 16, 2010, 4:43 PM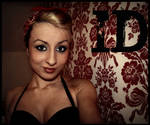 its LOOONG overdue that my friend loren and i do a photoshoot together !!!! haha i mean , loren studies photography daily and owns some great cameras and ideas , and here i am with very few photos lately ? well , as i mentioned i was very unwell but im finally better and feeling somewhat attractive enough to be infront of a camera !

i have this great urge to do a themed shoot and nothings stopping me so ? i will speak to loren and we will arrange something . i also want to get some of you to notice loren or at least comment her work with your views and inspire her to take more shots of her own because shes like a little sister to me and im proud of what she does !
in the meantime it would be fun to hear suggestions of what you would like to see from a collaboration from us perhaps ?
macabre , vintage , conceptual , fashion , simple ?
take a second to tell me or loren what you think


Watch

No way guys, do something completely different. Go out of your comfort zone. I think something that could pretty neat is if you continue to do your same style and mood (graphic, simple, and reflective) but play with the shape of the photograph. It doesn't have to be rectangle. Something really cool that this kid in my class did one time was chop his image into super thing vertical rectangles and then curve up and down like a wave-length. It was just a picture of someone crossing the street, but it looked so cool. Just an idea though, I can't wait to see what you guys do!
Reply

i like your thinking , to go beyond a rectangular frame

ive discussed it with loren and shes all for modern or something along those lines , shes "done vintage" hahaha
Reply

i'm getting this image of you and her (btw she looks gorgeous) in a b&w shoot, very vintage and maybe mad men-like. i'd love to see you in a black suit.

can't wait what you two come up with !
Reply

I like this a lot! Although i done a 'vintage' shoot just there so maybe something completely different?

Reply

I think you should go for vintage too!
Reply

Reply

You should try vintage! A lot of your work has a modern feel to it. I think it's something that would be interesting to see from you guys. But it's your decision.

Though I do like vintage...
Reply