Journal Entry:
Mon Sep 27, 2010, 2:30 PM
thought id share with you guys some art news !
i have just recently applied for a space in the ulster hall which is a local renovated building specifically for the arts ! i find out soon whether they have accepted me but i thought id share in my excitement/fear of the application .
successful artists will have a month long exhibition for the body of work space they would need - a WHOLE MONTH ? ! it may not be much to some but put yourself in my shoes - not many people get to rreally see my work and ive never exhibited anywhere but in school - so for me this is a BIG DEAL ! and a window for opportunities :]
sadly i cant display my latest work and my personal favourite (below) as it now has a home in AUSTRIA with the persons featured . but hey an artist has to part ways with their work sooner or later right ?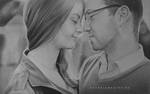 anyway i find out in the next few weeks whether or not i get it , so please keep your fingers crossed for me ! and i'll let you know as soon as i hear anything !

Watch