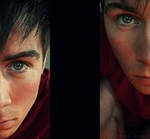 when we create our own art , it becomes a part of our journal almost , its a part of us . . most of the time through our art we want to express who we are , show ourselves , our interests , use it to outline our life at that present point . i dont know about you but my art is my diary .
i always look back on my work and remember things like how cold it was that day , what i did after i took a certain photo , how happy i was at the time .
tonight i was looking through my photos and when i came to my piece ' 3 voices ' i just stopped . .
i wasnt expecting my own reaction and it almost brought me to tears the memory of why i made this piece . i can remember what i did straight after this photo , what i ate that day , where i drove , what i did , who i was with , the smells , the tastes , how happy i was but most of all how insanely confused i was . . i'll share with you now that i subconsciously submitted this photo as a cry for help . i wanted someone to give me the answer but i couldnt tell anyone what the problem was . i remember telling my best friend - the only one person who knew , that this was the worst thing i had faced in my life and together we couldnt find a solution ! right now looking back however i can see that it wasnt the worst thing in the world it was quite easily the best thing. . its funny how art can mean something to you , and then one day can mean something entirely different ? . i look at ' 3 voices ' and i see a great sadness in my eyes . the confusion just shining through is soul destroying . i now have a love / hate relationship with this piece . love : for reminding me of happy memories , but hate : for reminding me of why they were happy memories .
i dont have a blog anymore , i dont even have a facebook either as i previously told you about , so its nice to come and release some thoughts as i often find writing so therapeutic , but its nicer that i can share those thoughts here as they relate to my art (:
i had an interesting idea that im pretty sure some of you may be intrigued by . i was thinking of ( like i have just done ) taking a piece from my gallery and talking about the thought process behind it . my reasons for creating it . and if i can remember what i ate that day i'll even share that haha (;
if you like the idea and would like to know more about a certain piece just post the title or link in a comment and i will tell you what you would like to know or as much as i feel comfortable ! sound good ?