Journal Entry:
Mon Sep 20, 2010, 4:59 PM
ONCE AGAIN someone anonymous (either that or i stupidly cant see who it is) has donated a membership to myself as a GIFT ?!
i post my works on here as my hobby - for fun - to express myself , and it seriously warms my heart when someone could be moved by my work to want to do such a generous thing as pay for membership fee's for me . i dont care how small this token may be considered by others or themselves , it means alot to me . .
i dont know what to say . .
thankyou <3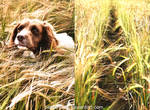 my dog D [ dee ] is currently in the vets now getting the screw replaced in his elbow :'/ along with this and other things in my life , i needed cheering up . and this has given just that for now .

Watch

well you used to upload great pictures, but nowadays you don't,
anyway i'll extend your membership. you totally deserved more than that.

Reply


!!!!!! OH MY !!!!!
im quite honestly stunned ! THANKYOU ?!!?!
i know , this has been a very testing year for many reasons as my blogs have told you at times . i havent been myself but VERY recently it has clicked with me

im back - you could say

im having a photoshoot on wednesday so there will be photos from that but your kindness has inspired me to want to take photos possibly tomorrow as i have a day off work

. . i never expect anything from anyone on here , comments alone cheer me up
thankyou . humbly .
Reply

Be grateful you have D, it is one faithful love you will always have.
Reply

Reply

Congratulations! But from me is just the llama!

Reply