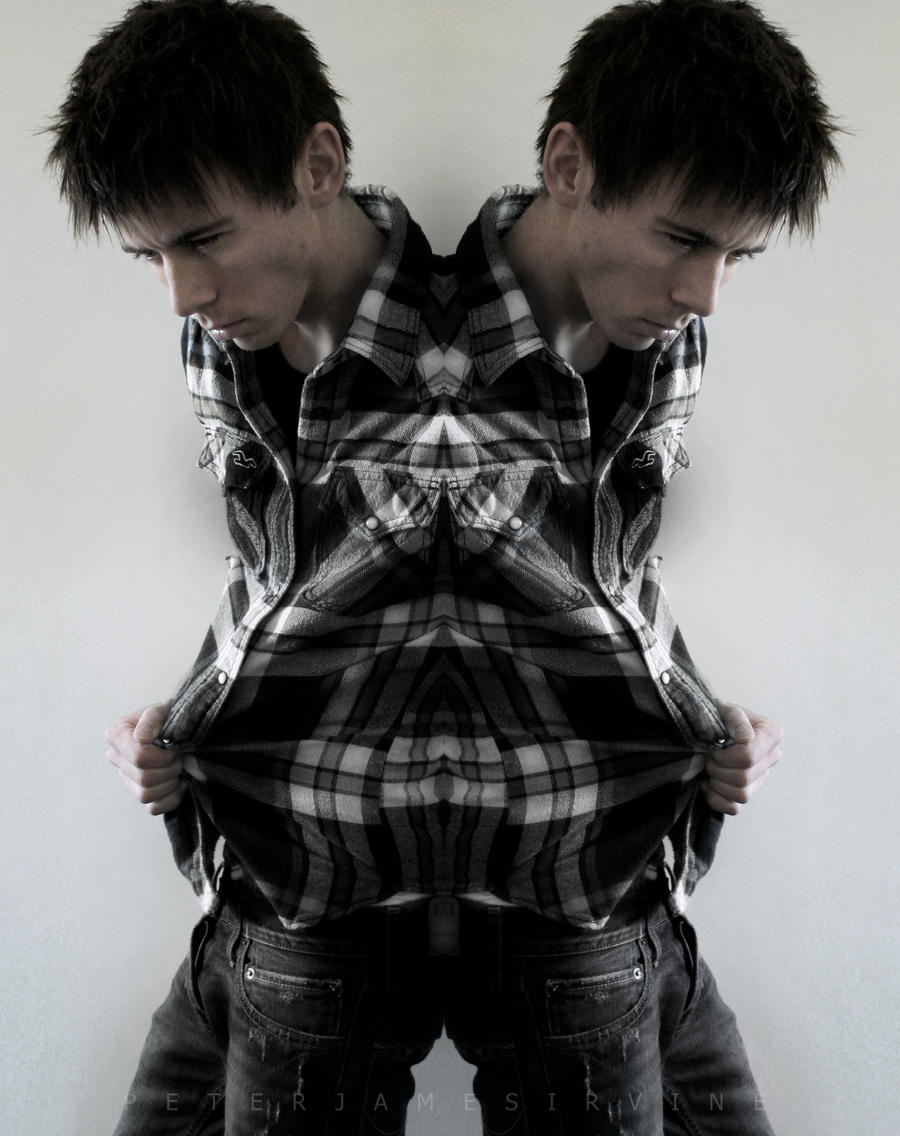 Watch
self portrait themed on: the Rorschach test : using interpretation of "ambiguous designs" to assess an individual's personality .
in other words what do you see ?

I see a human-shaped figure with its hands up to cover its mouth. Its head looks like some kind of old-fashioned table centerpiece. All in the white and grey squares of your shirt... can you see it? Your act of pulling at the shirt is shaping the hips of it.
Now, how's that for a Rorschach test?
Besides, I like you better with one head

Reply

I got the feeling of conjoined twins trying to rip themselves apart.
Reply

i suppose with the lack of colour this could evoke a sense of darkness and anger - which could enhance your thoughts

nice thought !
Reply

Reply

What do I see? Oh dear!

It reminds me of one of those ink drawings you do when your a kid. You know, you drop ink on a piece of paper and fold it in half. Probably not what your after, but that is my first thought.

My attention is drawn to the crotch and then the face. But that's because I'm gay, and I can't help myself.

There is a strong "X" shape in the centre. There is also an interesting shape caused by the two collars in the centre.

I'm not sure what else I can see.

There are two petes, and two petes are always better than one, aren't they.

Oh. I've just noticed there is pepper pot shape at centre bottom.

Ha ha. You can shoot me if you like.
Reply

haha its supposed to remind you of the ink pictures !

i see a few different other shapes but laugh at the 2 comment !

thankyou
Reply

I've just thought of something else. Which of the two images am I drawn to first? It's the one on the right. Why is that?
Reply

I've just realised that the right hand image is the real one. The fly on the jeans gives it away. Is that the reason I'm drawn to it, or is it because I'm right handed? I wonder.
Reply

AHA !!

I just looked up Rorschach test. I feel quite silly now.
Reply

haha the right hand one is the 'real' image

you can tell by the bird logo on my shirt and its positioning , i dont know why you feel drawn to that side on a photo that is completely symmetrical ?
Reply


*rendered speechless*



Somebody call the paramedics, my heart just stopped. Honestly, this is brilliant.
Everyone struggles between two sides of a personality, some battle who they're inclined to be vs. who they should be. That's what I see in this

Reply

ahh i like your deeper take on it - i was theming this more on the simple shapes and the rule of the thory - not the actual personality and meaning side of things but i like your idea

yes well that could be applied too !
thankyou for your kind words

Reply