Well January felt like it lasted forever. Still in between jobs this month I'm afraid, in the mean time I've put in some work cranking out more drawings and playing through my backlog of games. As discussed in my poll I've decided to do a YCH deal this month, read below for details:
YCH- Booty
$10
female only, no background, February Only!: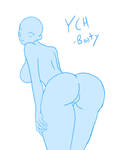 $20 for 1 female colored character (mature or non-mature) with a simple/no background.:
$40
for 2 female colored characters (mature or non-mature) with a simple/no background. :
$70
for harem style (big group) picture featuring a minimum of 4 girls,
$10 dollars
for each additional girl, max 8 girls:
$35 dollars for Model Sheets of 1 female colored character (up to four poses per pic):
My only rules are no scat, no guro, no preggo. I don't typically draw male characters I do make exceptions if I'm familiar with the character or if the art style makes it easy enough. Please be aware there may be a
wait time of 3 days to a week
or more for commissions to be finished.
If interested send me a note with commission info, a reference pic of the character and if possible whatever pose you're asking for. Paypal only!
Payments first!