I am an artist, but
I don't post my art here, on DA. Things I show people are in my sta.sh only.
This account is only used to talk with people, sometimes I post
stock photography
or
textures
into my gallery, but very, very, VEEEERY rarely. I mostly fave things. Also I try to sell adopts on here as well.
I post (or at least try to post) a lot of polls when I can.
You can ask me about trades or point commissions, but my prices in points are rather high for some deviants, because I follow the 100

= $1 exhange rate, and my usual prices for art start at $5-$10.
Thank you for your attention!
Now, have a pic of cute Chub!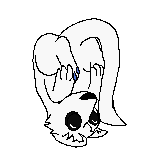 Wasn't made by me!
AND.
PLEASE.


And of course:

My stamps:






:thumb671116482:
I'm just a

I don't bite