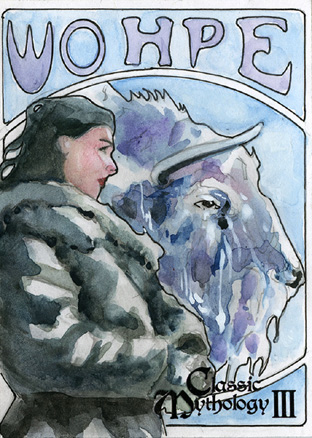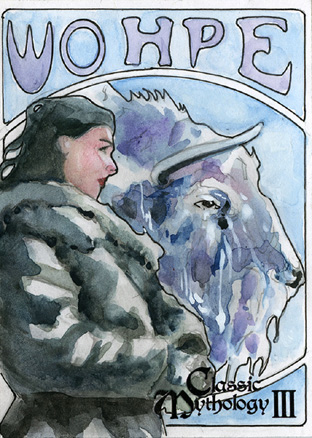 Watch

Perna Studios is very excited to announce our tenth trading card set entitled Classic Mythology III: Goddesses (release date Summer of 2018). This set will focus on Goddesses from timeless Classic Mythologies that we have all come to love and enjoy during our lifetime. The mythologies spotlighted in this set are Greek, Norse, Egyptian, Celtic, Native American, Japanese and African.
pernastudios.deviantart.com
PLEASE, NEGATIVE CRITIQUES ARE NOT WELCOME. THESE ARE ARTISTS INTERPRETATIONS. DESCRIPTIONS ARE BASED ON VARIOUS STORIES THAT ALL DIFFER FROM VARIOUS SOURCES. THANK YOU. NEGATIVE COMMENTS WILL BE DELETED.
This awesome sketch art card of Wohpe from Native American Mythology is drawn by the very talented artist Craig Yeung

for our Classic Mythology III trading card set.
Native American Mythology - Wohpe (Whope) - In Lakota mythology, Wóȟpe (less correctly spelled "Wohpe") is a goddess of peace, the daughter of Wi and the Moon, Haŋhépi-Wi. She was the wife of the south wind. When she visited the Earth, she gave the Dakota Indians (Sioux) a pipe as a symbol of peace. Later, Wóȟpe became the White Buffalo Calf Woman. An alternative name for Wóȟpe is Ptehíŋčalasaŋwiŋ. The name Wóȟpe means meteor and she represents peace, harmony, meditation and the cycles of time. Her sacred stone is turquoise, a stone that ranges in color from sky blue to blue-green to green. Turquoise has been prized for centuries and was used by the ancient Egyptians, Persians, Aztecs, and other people of South and Central America for jewelry and amulets. However, it is probably best known of its use by North American native peoples as it was prized by medicine men who used it for healing, to bring rain and for protection.
csyeung.deviantart.com
or
www.facebook.com/csyeung