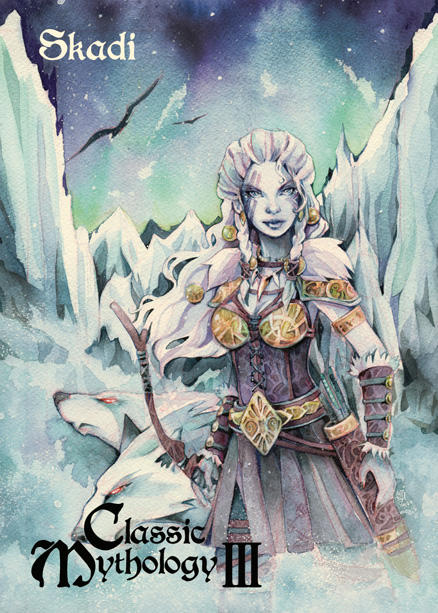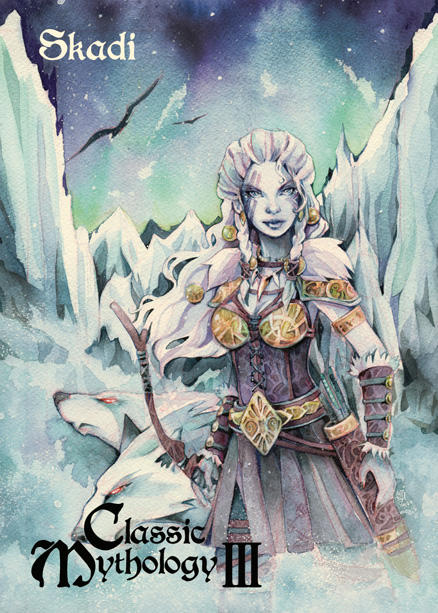 Watch

Perna Studios is very excited to announce our tenth trading card set entitled Classic Mythology III: Goddesses (release date Summer of 2018). This set will focus on Goddesses from timeless Classic Mythologies that we have all come to love and enjoy during our lifetime. The mythologies spotlighted in this set are Greek, Norse, Egyptian, Celtic, Native American, Japanese and African. More information will be available soon in regards to the artists involved in this project.
pernastudios.deviantart.com
PLEASE, NEGATIVE CRITIQUES ARE NOT WELCOME. THESE ARE ARTISTS INTERPRETATIONS. DESCRIPTIONS ARE BASED ON VARIOUS STORIES THAT ALL DIFFER FROM VARIOUS SOURCES. NEGATIVE COMMENTS WILL BE DELETED. WE WANT THESE CARD SETS TO BE FUN. PLEASE DO NOT BE RUDE. THANK YOU.
This beautiful art of Skadi from Norse Mythology is created by artist Helga Wojik

- This promo card will be available at the upcoming Philly Non-Sports Card Show taking place October 21st & 22nd 2017 at the Merchants Square Mall in Allentown, PA. These promo cards will be given away with admission to the show while supplies last.
phillynon-sportscardshow.com/
Skadi – Norse Mythology – Skadi was married to Njord, the Vanir God of wind, seafarers, coasts and inland waters. She is the daughter of the frost giant Thiazzi. Skadi is the Goddess of winter, skiers and hunters. Skadi picked Njord as her husband because of his beautiful feet but they could not agree where to live. Njord thought that the home of Skadi in the land of the jotuns was to cold and deserted.
While Skadi didn't like the noise and fuss of the shipbuilding around Njord's home, Noatun in Asgard. Skadi was happy only in the mountains with her beloved wolves. After nine nights at each place, they decided to live by themselves. Skadi went back to her favorite interest to hunt of skis, and the weather bitten Njord, returned to the sea.
In Heimskringla, Skaði is described as having split up with Njörðr and as later having married the god Ullr, and that the two produced many children together. In both the Poetic Edda and the Prose Edda, Skaði is responsible for placing the serpent that drips venom onto the bound Loki. Skaði is alternately referred to as Öndurguð (Old Norse "ski god") and Öndurdís (Old Norse "ski lady").
wojikhell.deviantart.com
or
www.facebook.com/HelgaWojik

HOLY SHIZ THIS IS AMAZING!!! plus if you havnt noticed, I love Skadi
Reply

Reply

Awesome design on Skadi. Love it
Reply

Reply

Reply

This is truly exquisite! (And I say that even as a Loki-lover who is no fan of Skadi's.)
Reply

Very cool. I have an alien character who is named Skadi. She is named after her grandmother and I modeled her species after StarCraft's Protoss and StarGate SG-1's Asgard.
Reply