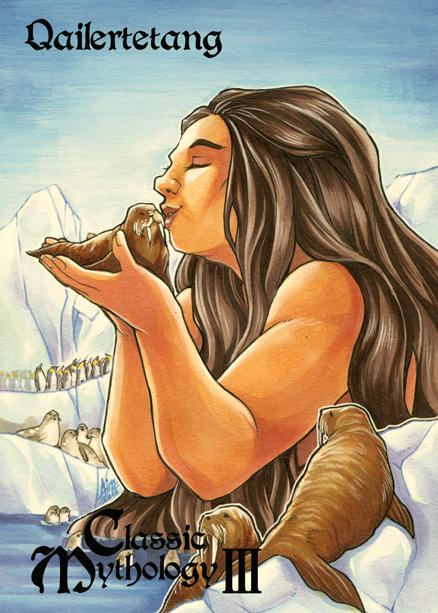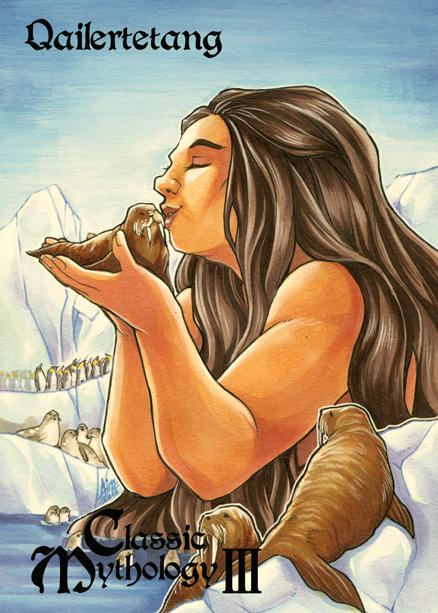 Watch

Perna Studios is very excited to announce our tenth trading card set entitled Classic Mythology III: Goddesses (release date Summer of 2018). This set will focus on Goddesses from timeless Classic Mythologies that we have all come to love and enjoy during our lifetime. The mythologies spotlighted in this set are Greek, Norse, Egyptian, Celtic, Native American, Japanese and African.
pernastudios.deviantart.com
PLEASE, NEGATIVE CRITIQUES ARE NOT WELCOME. THESE ARE ARTISTS INTERPRETATIONS. DESCRIPTIONS ARE BASED ON VARIOUS STORIES THAT ALL DIFFER FROM VARIOUS SOURCES. NEGATIVE COMMENTS WILL BE DELETED. WE WANT THESE CARD SETS TO BE FUN. PLEASE DO NOT BE RUDE. THANK YOU.
This awesome art of Qailertetang from Inuit Mythology is created by the very talented artist Irma Ahmed

This beautiful art will be a base card in our Classic Mythology III: Goddesses card set.
Qailertetang - is an Inuit female deity who cares for animals, fishers, and hunters, and who controls the weather. She dwells with her companion Sedna at the bottom of the sea, in the company of seals, whales, and other sea creatures. Qailertetang is depicted as a "large woman of very heavy limbs". In rituals, she is served by a two-spirit male shaman "dressed in a woman's costume and wearing a mask made of seal-skin".
aimo.deviantart.com
or
www.irmaahmed.tumblr.com