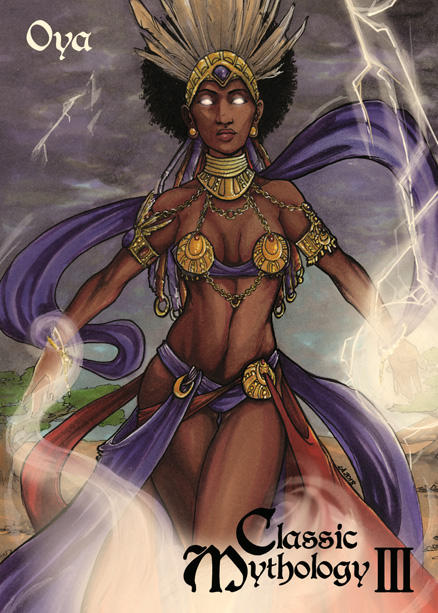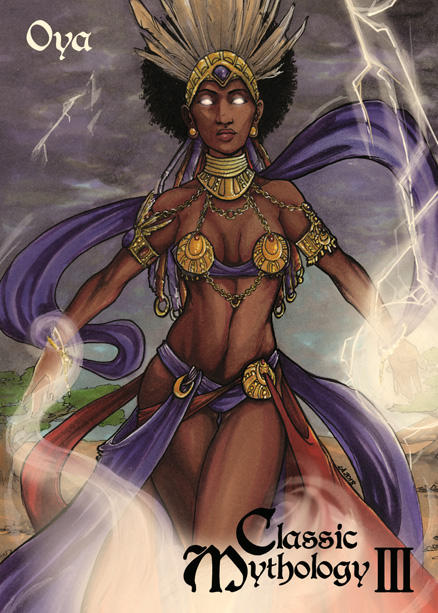 Watch

Perna Studios is very excited to announce our tenth trading card set entitled Classic Mythology III: Goddesses (release date Summer of 2018). This set will focus on Goddesses from timeless Classic Mythologies that we have all come to love and enjoy during our lifetime. The mythologies spotlighted in this set are Greek, Norse, Egyptian, Celtic, Native American, Japanese and African.
pernastudios.deviantart.com
PLEASE, NEGATIVE CRITIQUES ARE NOT WELCOME. THESE ARE ARTISTS INTERPRETATIONS. DESCRIPTIONS ARE BASED ON VARIOUS STORIES THAT ALL DIFFER FROM VARIOUS SOURCES. NEGATIVE COMMENTS WILL BE DELETED. WE WANT THESE CARD SETS TO BE FUN. PLEASE DO NOT BE RUDE. THANK YOU.
This awesome art of Oya from African Mythology is created by the very talented artist Lynne Anderson

This beautiful art will be a frosted clear chase card in our Classic Mythology III: Goddesses card set.
Oya - The Yoruba warrior goddess of the wind, fire and the thunderbolt. She is the primeval mother of chaos, the mother of nine children (the nine tributaries of the Niger River). Her husband is Shango, the God of Storms. She creates change of fortune, and her power is associated with lightning, tornadoes, earthquakes and other storms, cemeteries and death. Her motherly strength inspires us to embrace change and learn from it. Using her machete, or sword of truth, she cuts through stagnation and clears the way for new growth. She does what needs to be done. She is the wild woman, the force of change; also the queen of the marketplace and a shrewd businesswoman who is adept with horses. As the wind, she is the first breath and the last, the one who carries the spirits of the dead to the other world, which is why she is associated with cemeteries. Oya is a great witch and the guardian of the gates of death. She is invoked when there are serious illness or when transformation is necessary. Oya is tall, stately, and fierce in battle. She is the orisa of creative power and action. They say every breath we take is the gift of Oya. The other two Ancient Mothers are Osun and Yemaja.
lynneanderson.deviantart.com
or
www.facebook.com/undergroundun…