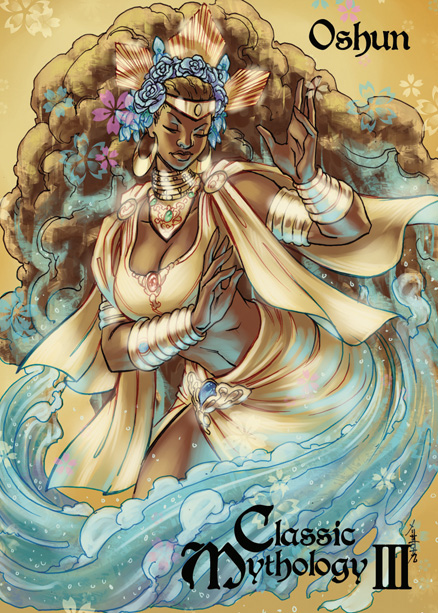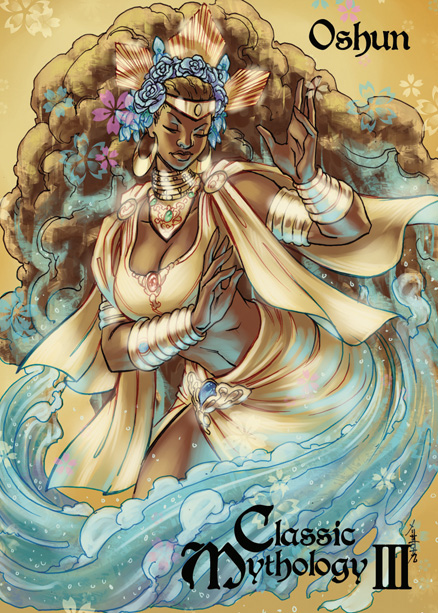 Watch

Perna Studios is very excited to announce our tenth trading card set entitled Classic Mythology III: Goddesses (release date Summer of 2018). This set will focus on Goddesses from timeless Classic Mythologies that we have all come to love and enjoy during our lifetime. The mythologies spotlighted in this set are Greek, Norse, Egyptian, Celtic, Native American, Japanese and African.
pernastudios.deviantart.com
PLEASE, NEGATIVE CRITIQUES ARE NOT WELCOME. THESE ARE ARTISTS INTERPRETATIONS. DESCRIPTIONS ARE BASED ON VARIOUS STORIES THAT ALL DIFFER FROM VARIOUS SOURCES. NEGATIVE COMMENTS WILL BE DELETED. WE WANT THESE CARD SETS TO BE FUN. PLEASE DO NOT BE RUDE. THANK YOU.
This awesome art of Oshun from African Mythology is created by the very talented artist Mel Uran

This beautiful art will be a base card in our Classic Mythology III: Goddesses card set.
Oshun (Osun) - Rivergoddess of fertility and healing. The goddess of love, sexuality, beauty and diplomacy. She is the owner of the sweet waters. With her sweetness, she overcomes the most difficult tasks. She is the protector of the abdominal area and the teacher of pleasure and happiness. She is a great giver, but when she is angry, it is very difficult to calm her down. She is often invoked in matters of love and money. Oshun is one of the few native African Goddesses whose name is recognized in the West. She is honoured by the Yoruba people of Nigeria primarily as a Goddess of fresh water, an element important to any people. She is also responsible for fertility, love and divination.
meluran.deviantart.com
or
www.facebook.com/MelUranArt