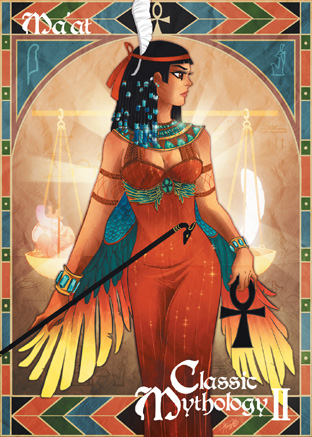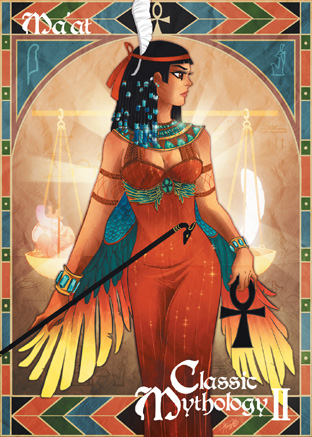 Watch

Perna Studios is very excited to announce our third trading card set entitled Classic Mythology II. This set will focus on 5 timeless Classic Mythologies that we have all come to love and enjoy during our lifetime. The mythologies spotlighted in this set are Greek, Norse, Egyptian, Celtic and Native American. We have an impressive list of artists involved on this set working on both base/promo cards and sketch cards. Set scheduled to be released in April 2014.
PLEASE, NEGATIVE CRITIQUES ARE NOT WELCOME. THESE ARE ARTISTS INTERPRETATIONS. DESCRIPTIONS ARE BASED ON VARIOUS STORIES THAT ALL DIFFER FROM VARIOUS SOURCES. THANK YOU.
This awesome art of Ma'at from Egyptian Mythology is created by the very talented artist Hanie Mohd.

- This art will be a base card in our Classic Mythology II card set.
Ma'at – Egyptian Mythology – Ma'at was the Goddess concept of truth, balance, order, law, morality, and justice. Maat was also personified as a goddess regulating the stars, seasons, and the actions of both mortals and the deities, who set the order of the universe from chaos at the moment of creation. After her role in creation and continuously preventing the universe from returning to chaos, her primary role in Egyptian mythology dealt with the weighing of souls that took place in the underworld, Duat. Her feather was the measure that determined whether the souls (considered to reside in the heart) of the departed would reach the paradise of afterlife successfully. She was depicted as a young woman, sitting or standing, holding a was scepter, the symbol of power, in one hand and an ankh, the symbol of eternal life, in the other. Sometimes she is depicted with wings on each arm or as a woman with an ostrich feather on her head. Depictions of Maat as a goddess are recorded from as early as the middle of the Old Kingdom (c. 2680 to 2190 BCE).



Beautifully crafted with wonderful detail!

IT!

AWESOME WORK!


Reply

She really looks like she should be in a Animated Movie! So gorgeous! As you can
tell by my username, Ma'at and Thoth are my fave Egyptian God Pairing!

Reply

I love the way she was done in this one!
Reply

Reply