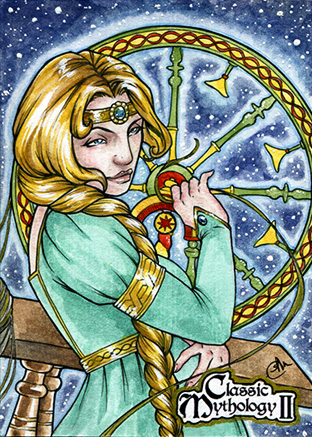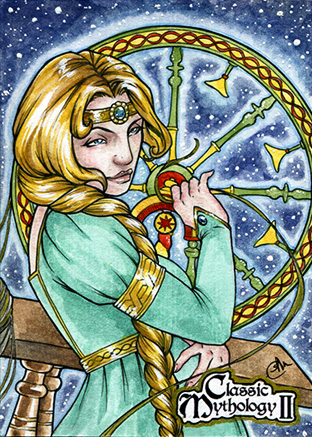 Watch

Perna Studios is very excited to announce our third trading card set entitled Classic Mythology. This set will focus on 5 timeless Classic Mythologies that we have all come to love and enjoy during our lifetime. The mythologies spotlighted in this set are Greek, Norse, Egyptian, Celtic and Native American. We have an impressive list of artists involved on this set working on both base/promo cards and sketch cards. Set scheduled to be released in early Spring 2014.



pernastudios.deviantart.com



PLEASE, NEGATIVE CRITIQUES ARE NOT WELCOME. THESE ARE ARTISTS INTERPRETATIONS. DESCRIPTIONS ARE BASED ON VARIOUS STORIES THAT ALL DIFFER FROM VARIOUS SOURCES. THANK YOU. NEGATIVE COMMENTS WILL BE DELETED.



This awesome sketch art card of Frigga from Norse Mythology is drawn by the very talented artist Samantha Johnson

for our Classic Mythology II trading card set.
Frigga (Frigg) - Norse Mythology – Frigga was a major goddess in Norse Mythology. She was the wife of Odin, and is the "foremost among the goddesses" and the queen of Asgard. She was also described as having the power of prophecy yet she does not reveal what she knows. Frigga was described as the only one other than Odin who is permitted to sit on his high seat Hlidskjalf and look out over the universe. The English term Friday derives from the Anglo-Saxon name for Frigg, Frige. Frigga is the mother of Balder. Her stepchildren are Thor, Hermóðr, Heimdallur, Týr, Bragi, Víðarr, Váli, Skjöldur, and Höðr. Frigg's companion is Eir, a goddess associated with medical skills. Frigga's attendants are Hlín, Gná, and Fulla. The asterism Orion's Belt was known as "Frigg's Distaff/spinning wheel" (Friggerock) or "Freyja's Distaff" (Frejerock). Some have pointed out that the constellation is on the celestial equator and have suggested that the stars rotating in the night sky may have been associated with Frigga's spinning wheel. Frigga also spun the clouds and mist with her spinning wheel. The Norse name for the planet Venus was Friggjarstjarna 'Frigg's star'. Frigga's name means "love" or "beloved one". Frigga's hall in Asgard is Fensalir, which means "Marsh Halls." This may mean that marshy or boggy land was considered especially sacred to her but nothing definitive is known. Frigga was a goddess associated with married women. She was called up by women to assist in giving birth to children, and Scandinavians used the plant Lady's Bedstraw (Galium verum) as a sedative, they called it Frigg's grass).

That's a Friggaton of beauty.
Reply

You're welcome, oh, and are you going to do fanart of the new God of War game anytime soon?
Reply

We can't produce fanart products with this company. Anything from licensed properties (Movie, T.V., Comics, Video games, etc....) requires paying for a license to use for products. We just stick to general public domain themes.

You can always commission fanart from an artist for your personal collection.
Reply

Okay, so can you draw some official art from my debut novel?
Reply

Beautiful work! I featured your work, credited of course, on my Facebook page. Drop by and give us a like. We share many pieces of artwork, be that painting or poem. We always credit and source our posts.

www.facebook.com/pages/The-%C3…
Reply

Thank you for the feature and crediting the artists. We like your Facebook page.

Reply

Reply

Beautiful piece, good luck with the card set

Reply

Reply

this is actually sexy for me

in dissent seance...
Reply

She was played by Rene Russo in the Thor movies. I hadn't heard much of that same actress in a while, but it was a nice comeback on her part. As Odin's wife, she is cool. She's basically the Hera of Norse mythology, but at least her husband is not an adulterer. At least not that I'm aware. She is a stepmother, but I'm sure she's not like the one from Cinderella.
Reply