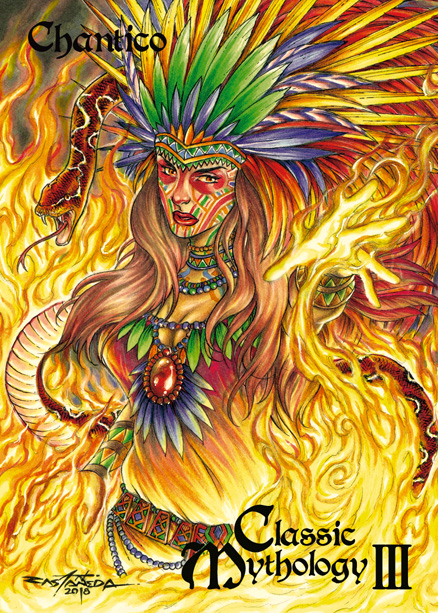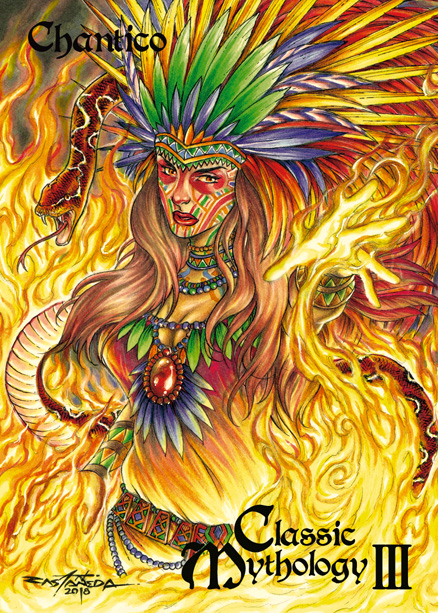 Perna Studios is very excited to announce our tenth trading card set entitled Classic Mythology III: Goddesses (release date Summer of 2018). This set will focus on Goddesses from timeless Classic Mythologies that we have all come to love and enjoy during our lifetime. The mythologies spotlighted in this set are Greek, Norse, Egyptian, Celtic, Native American, Japanese and African.
pernastudios.deviantart.com
PLEASE, NEGATIVE CRITIQUES ARE NOT WELCOME. THESE ARE ARTISTS INTERPRETATIONS. DESCRIPTIONS ARE BASED ON VARIOUS STORIES THAT ALL DIFFER FROM VARIOUS SOURCES. NEGATIVE COMMENTS WILL BE DELETED. WE WANT THESE CARD SETS TO BE FUN. PLEASE DO NOT BE RUDE. THANK YOU.
This awesome art of Chantico from Aztec Mythology is created by the very talented artist Oliver Castaneda. This beautiful art will be a base card in our Classic Mythology III: Goddesses card set.
Chantico - ("she who dwells in the house") was the goddess of fires in the family hearth and volcanoes. She broke a fast by eating paprika with roasted fish, and was turned into a dog by Tonacatecuhtli as punishment because paprika is a banned food in such fast breaking customs. She also wears a crown of poisonous cactus spikes, and takes the form of a red serpent.
Chantico is the goddess of precious things and is very defensive of her possessions. There are many Aztec legends as to what she does to people (or other gods) who take her things.
www.facebook.com/oliver.castan…
or
www.instagram.com/viskratos