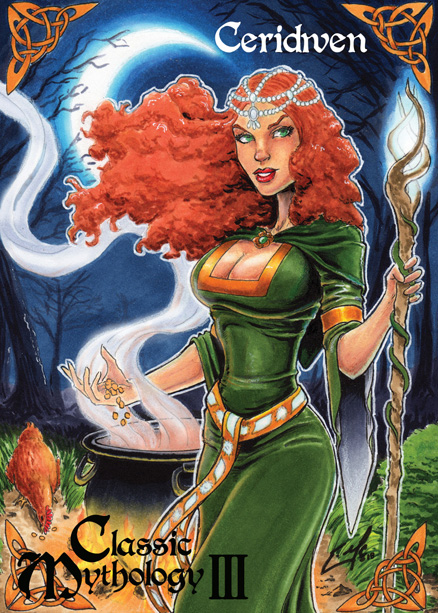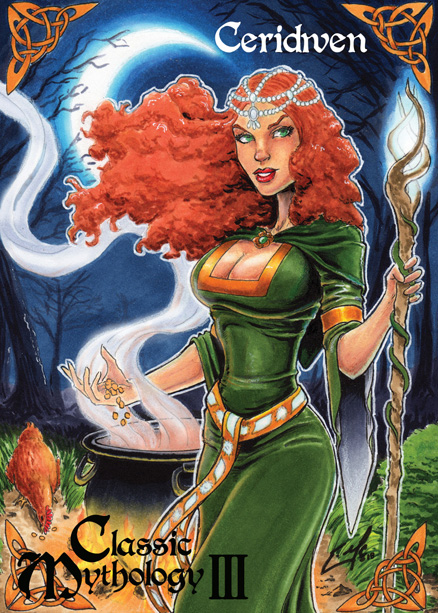 Watch

Perna Studios is very excited to announce our tenth trading card set entitled Classic Mythology III: Goddesses (release date Summer of 2018). This set will focus on Goddesses from timeless Classic Mythologies that we have all come to love and enjoy during our lifetime. The mythologies spotlighted in this set are Greek, Norse, Egyptian, Celtic, Native American, Japanese and African. More information will be available soon in regards to the artists involved in this project.
pernastudios.deviantart.com
PLEASE, NEGATIVE CRITIQUES ARE NOT WELCOME. THESE ARE ARTISTS INTERPRETATIONS. DESCRIPTIONS ARE BASED ON VARIOUS STORIES THAT ALL DIFFER FROM VARIOUS SOURCES. NEGATIVE COMMENTS WILL BE DELETED. WE WANT THESE CARD SETS TO BE FUN. PLEASE DO NOT BE RUDE. THANK YOU.
This beautiful art of Ceridwen from Celtic Mythology is created by artist Eric McConnell

-
This promo card is now available. Shipping is FREE while supplies last. Just send us a message.
Ceridwen - is the shapeshifting Celtic goddess of knowledge, transformation and rebirth. Other spellings of her name include Cerridwen, Caridwen, Cereduin, Keridwen and Kerridwen. Her name is derived the Celtic word cerru meaning cauldron which like the Goddess herself, symbolizes the transformative power of magic, wisdom, rebirth and creative inspiration. For these reasons she is seen as a patron Goddess of witches and wizards. She is also associated with the moon, fertility, science, prophecy and poetry. The Awen, cauldron of poetic inspiration, is one of her main symbols. The Goddess uses her knowledge of magic and herbs to create a potion to transform her ugly son Morfan into a wise boy.
The potion needs to be boiled in her cauldron for a year and a day. She leaves her servant Gwion in charge of the mixture until one day when he accidentally spilt three drops on his hand and licked it off, empowering him with the brews knowledge and power.
Frightened of the Goddesses reaction he turned himself into a rabbit. Ceridwen gave chase in the form of a greyhound. He then became a fish and jumped into a river and she became an otter. He turned into a bird and she followed as a hawk. Eventually Gwion transformed into a grain of corn and is eaten by the Goddess who had become a hen.
The grain took seed in her womb, and nine moons later, she gave birth to the Taliesin. She is unable to kill the child, instead she wraps him up in a leather bag and sets him out to sea. He survives and becomes the famous Welsh poet Taliesin
jedidad.deviantart.com
or
www.facebook.com/ArtOfEricMcco…

Reply

Reply

Reply