Oh I don't mind at all! Here are my answers.
~*~


What are your favorite art tools?

Pencil and paper for my sketches, phone to the digital completion.


What's one thing you absolutely hate / detest / really don't like trying to draw and why?

Buildings/interiors. I don't necessarily HATE them per say, it's just the perspective that gives me a problem, nothing looks //even//.


What's something you found that has helped you grow and develop more as an artist?

References and "drawing through" the form. Whenever I use a reference my art improves tenfold.


What or who has inspired you to become an artist?

I believe I've always just had an inclination towards the subject. But the "How to Train Your Dragon" movies really got my inspiration and creativity flowing again during a bleaker moment of my life.


Are detailed backgrounds really worth the time to create?

Oh yes! I've found that if I really get into the flow of creating background environments, I always enjoy the result.


What's one kind of art you wished you could do but currently aren't? Sculpting? Metal working? Sewing? Carving? etc.

I've always found cross-stitching to be neat, but don't have the supplies for it. I also used to be really into knotting bracelets, but I haven't done that in about a year.


If there was one piece of advice you'd share with another artist, what would it be?

If you feel your art doesn't look good from the start, don't worry about it! You'll get better in time. Just around this time last year, my art looked like this: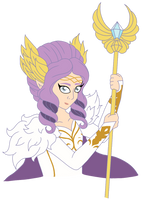 But now in the span of a year, I've kept working at it and now my stuff looks more like this: