An updated version of this —>
www.deviantart.com/peppoco/jou…
If you have any critique on this as well, I really would love it hear it so I know what to improve on or to consider ^^
If you also have title ideas I REALLY need some ideas
Sorry if it's not making much sense; I tried to be as vague as possible while still giving enough details to convey the proper idea.
———————————————
"You cannot allow history to repeat itself. Learn from its consequences so that you don't redo the same mistakes."
In a region isolated from most of the world, a dystopian society collapses in social order and physical structure during The Resistance, a devastating "civil war" caused by previous humans revolting against the totalitarian rulership. With the humans driven away, a mix of domesticated and wild animals saw the need to unite together into "factions", groups to support one another in surviving the mess left by the humans. In time, they created self-sustaining systems within their independent factions and managed for a time.
Theodore, a ratty doggo who cannot find a faction to accept him, befriends Persephone, a pale wolf and is invited to join their faction. However, Theo sees that Persephone is unknowingly repeating history by wanting to have restrictive control over the other factions as she increases in power. When Theo expresses disapproval, she drives him away in fury.
Surviving alone, an incident unites Theo with a new faction, and, to his dismay, with the objective of disrupting "Major Miss" Persephone's plan in a revolt.
Theodore sees the parallels these things have with the previous actions of the humans during The Resistance. He does not know how, but must find a way to stop history from repeating itself among them — before their "Second Resistance" bring irreversible effects.
———————
The designs and characters are not concrete, but here is the toyhouse folder of the ones so far:
toyhou.se/Peppoco/characters/f…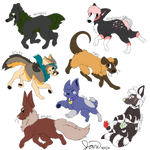 OrcaWhatever
I'm sorry for pinging you but do you have anything to say about this new synopsis?? for the other details I'm keeping what you said earlier in mind bc it's really helping the development <3