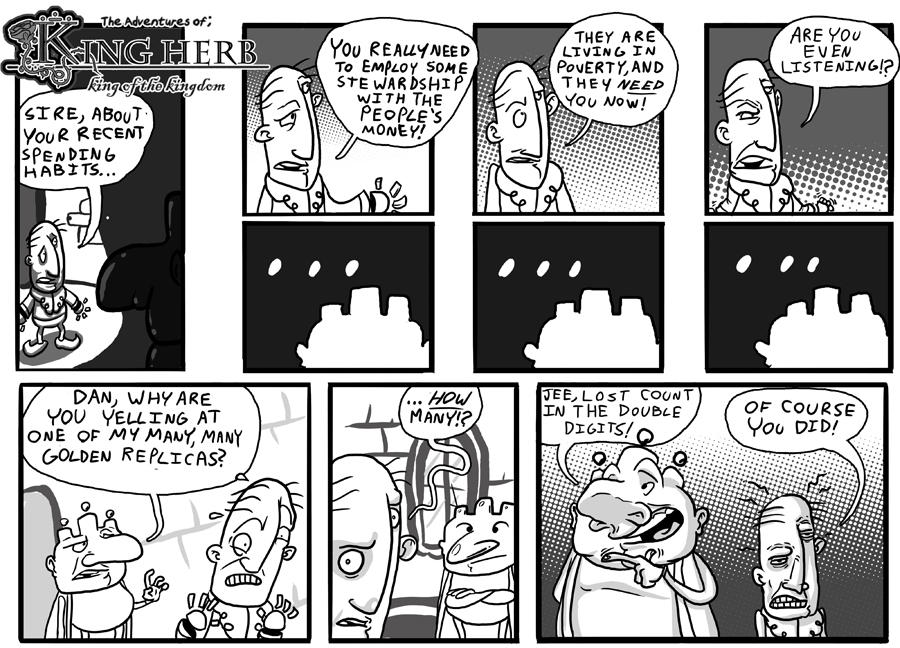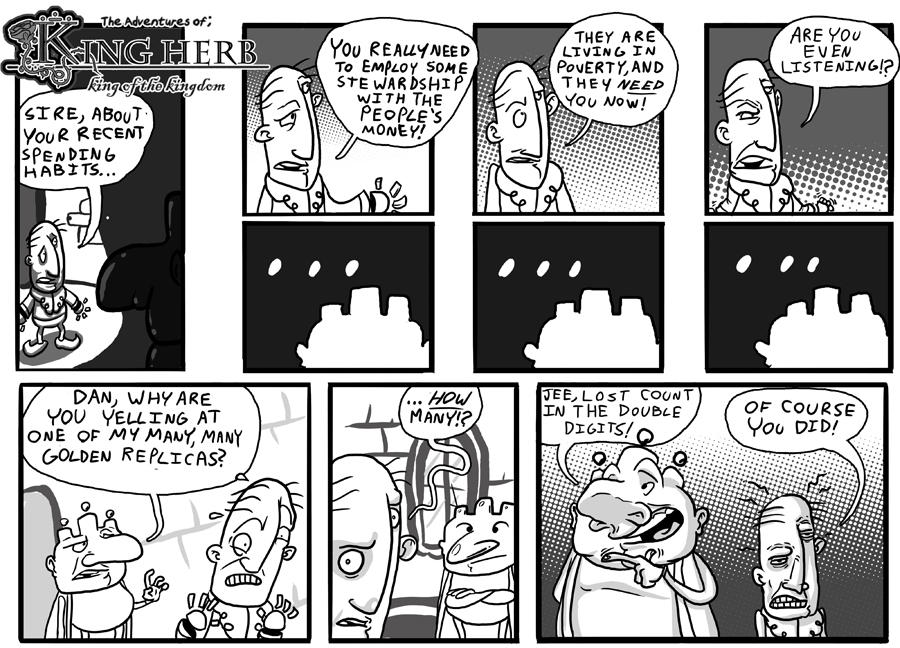 Watch
The golden ellipses of truth.

These ARE funny. First off...

However based on the correlation that the first comic was lousy and I'd heard that joke before 20 times, and the past five were actually quite good, it stands to reason that if you keep going they will become amazazing!

But if you play off the current themes you might run out of ideas pretty quick. But I dunno I'm not you, and you could be thinking miles ahead of me!!!

Ultimately though, I should ask if you consider yourself the kind of funnyman to tell jokes in this syndicated comic kind of format? I really actually liked Brine a lot. The character personalities were engaging.
Reply

Yeah I thought that first one was definitely the weakest.
Yeah, King Herb is about big stupid jokes(more on that in a bit). I have a bunch of ideas for strips. During the school year I used to draw shitty King Herb comics while bored on lunch breaks or during related classes, so a lot of these jokes are the 'jems' from those comics. I'd upload the originals, but I mean, they'd just be the same jokes only shittier. I have enough jokes to get me to the end of the strip, though. Yes, the strip
will
be ending after a bit.
Trust me, this thing takes a back seat to brine. Recently, my friend ~
Z-Crackers
convinced me to join an OCT, and although we pulled out like the last minute, it got me drawing again. I'm finding so long as I sit down and invent a reason to open Photoshop and start drawing, I always end up back on brine. So yeah, we'll be seeing more king herb strips than we will brine pages, but its actually getting me to sit down and start drawing something without pressure. And there isn't a lot of pressure making king herb. They are easy to draw, and I can do them up quick, and its just me having some big stupid fun with some big stupid jokes.
I'm concerned if people like it or not, though, because I just don't like uploading bad things. This may be big stupid fun, but I want it to be quality big stupid fun.
Reply

It's definitely gotten to the point of quality stupid fun now. IF ITS FUN YOU SHOULD KEEP ON KEEPIN ON.

Because the more fun you have the more fun the reader will have. That's the way shit works, brah!
Reply

What a terrible king. Sad part is I'm sure some stage of history, this happened... a lot of stages
Reply