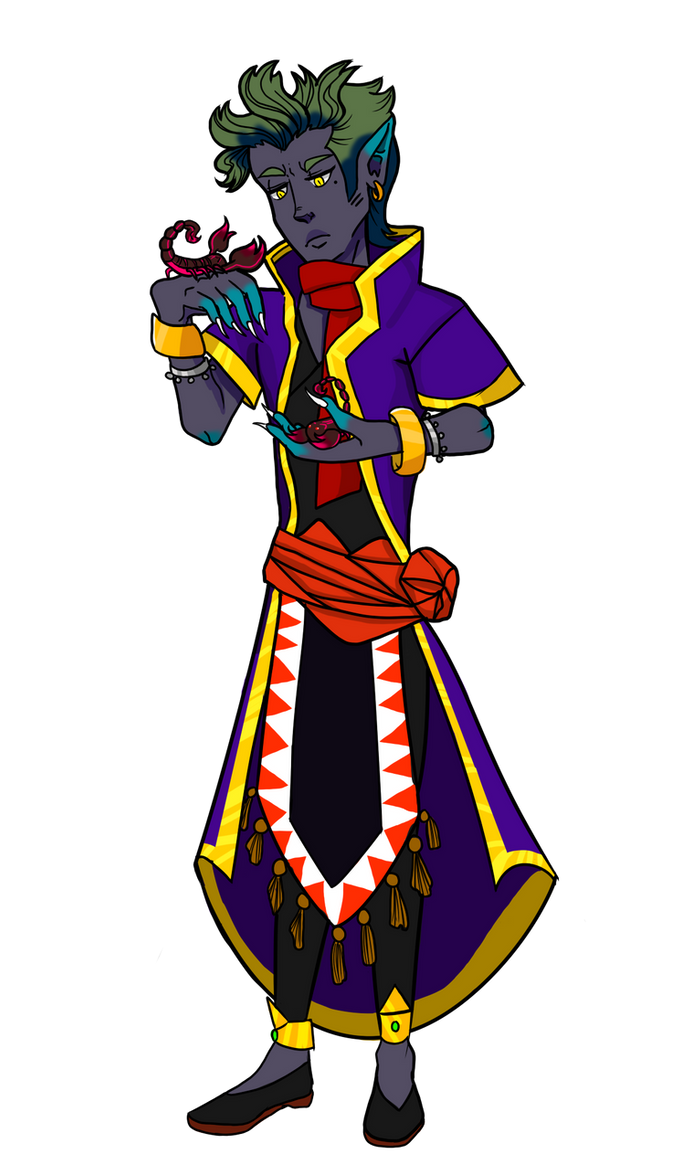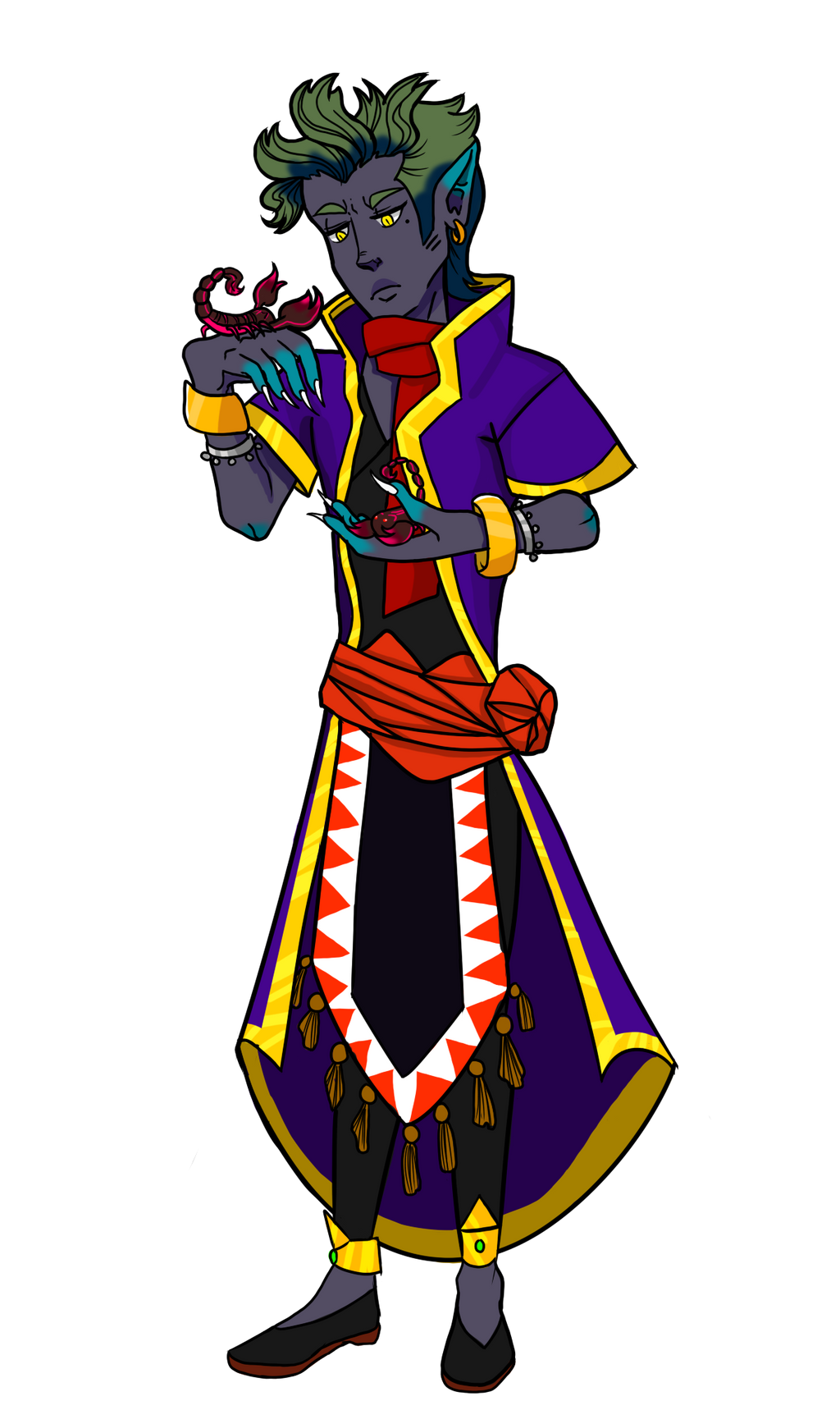 Name:
Naz Al-Kaboose
Nicknames:
Nazzy, Mr Grumpy-pants (By his younger sister)
Age:
19
Gender:
Male
Orientation:
Bisexual
Species:
Nightmare person (Pantophobia)
Accent:
Middle-Eastern
Relationship status:
Taken
Height:
6'
Occupation:
Prince
Residency:
Nightmare Realm
Personality:
+ Studious
+ Understanding
+Observant
-Condescending
-Cold
-Competitive
-Apathetic
-Blunt
Likes:
Breeding scorpions, Igria, reading, playing chess, sword practice
Dislikes:
Being touched, people, Nagisa
Relationships:
Family:

The Father Nightmare (Grandfather, Ancestor, Unknown)

Unnamed maternal nightmare grandparents and unnamed paternal human grandmother

(Retired King) Laiq Al-Kaboose (Father)

(Old Queen) Manaal Safiya Al-Rashid (Mother, Deceased)

Queen Mara Nimue Al-Kaboose (Older sister)

Princess Jehan Rashida Al-Kaboose (Younger sister)

Several unnamed older half siblings, nephews and nieces, and distant relatives

Igria
(Fiance/Wife)


Nagisa (Cousin-in law)


Theoi (Future brother-in law)



Achille (Mentor, Ex)


Background:
Born to the royal family as the only son and second child, it was quickly made clear to Naz in his early years that he would always come second to his older sister Mara, and grew up in her shadow as the unseen child whose efforts went unnoticed to their father. After losing his mother to the difficult birth of his younger sister that was coupled together with an illness, Naz became much more reclusive and turned his back on everyone but his older sister Mara, who aced as a surrogate mother to him. He blames his father and little sister for the death of his mother, and grieved tremendously since he wasn't allowed to see her one last time, only having the memory of her in pain from the approaching arrival of his little sister Jehan.
He built up high walls around himself and kept people at a distance, making it nearly impossible for anyone to befriend or even like him, tho few have dared to try. Such behavior was already considered unusual in Nightmare society that it wasn't long before he gained a bad reputation among his people, giving him all the more reason to not want to associate with them, especially those of low or hybrid births, let alone an anomaly.
There are rumors that those who anger him are possibly never seen again, and those rumors are true since Naz personally sees to it that they're never seen or heard from again, with a little help from his little poisonous friends that he carries on his own body, hidden under his clothes.

In reality, Naz is a lonely and spiteful soul seeking for comfort and affection, always hoping that his ancient father would one day look his way and properly acknowledge him as his son and not just some convenient offspring that happened to inherit the royal genetics. Though he blames his younger sister for their mother's death, he actually loves her, and even though he hates his sister Mara for overshadowing him his whole life, he loves her dearly and is afraid to lose her, since she is the closest thing he has to a mother and is thankful for the affection she showered him with over the years.
--------------------------------------------------------------------------------------------------------------------------------------

Hey ya'll! Some of you guys might remember lil ol'Naz here! Some of you probably might have never seen him at all and are seeing him for the first time. I gave him a nice big revamp for 2019, and i'm abosultely loving his new look, cuz oh my god, it's much easier for me to draw XD

So yep, naz is my angsty son who's always been that kind of guy others would love to hate, and few who actually want to love XD
I've been working on the world building and lore of the nightmare people for 6 years now,I'm quite dedicated to it, and tho he is technically just a side character to Mara's story, i have to admit, Naz is one of my favorite side characters that i'm glad I made. Originally, i just made him for the purpose of designing a character and to just give Mara a sibling, until a certain admin (you know who you are XD) decided to approach me and ask if naz could be in a ship.
I had absolutely no plans or interest in having him in a ship, but i found it hilarious how the admin, who is now a pretty great friend of mine, had decided to claim him before asking me, and so i was like, "Eh, why not?"

I have to say, it's thanks to the rps and several headcanons that Naz has gone through so much development, and i've reworked his story at most 3 times in a span of 6 years, and I'm quite proud of him too.


As of last year, Mara and her siblings, and any other oc i may have made for the nightmare kingdom are no longer a part of Adventure Time as they have their own stories, and are now multiverse. I'm just too lazy to move their folder out of the AT folder in my gallery, and i'm keeping it there until the next time i get core possibly XD

On another note, he's actually welcome to headcanons and possible friendships if anyone's up for the challenge XD



His clothes look more fabulous now, Pepper! Like, now he's more "Prince" like and I liked it, even more the colors!
His skin ans hair contrast with his clothes colors ♥
Reply

Thank you very much! Yeah, after looking at his old stuff, i'm just like, "Oh girl, what were you thinking back then?" XD
And yes, the beauty of color theory sure comes in handy XD
Reply

Mr. Fuck-you-all is back!! XD looking better then ever.
God did I tell you how much I'm living for his design because I am--
Also asdfghjkl-- likes Igria and dislikes Nagisa I'm laughing xD
Reply

Boi knows how to get his priorities straight XD
Reply

He looks fantastic I love his bio!

Reply

Thank you very much, he's been through some changes over the years
Reply

Reply

Reply